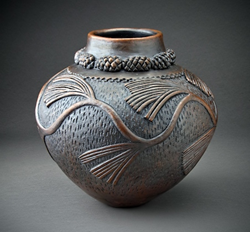 Alexis' pots are a delight to behold – and to hold. - Shanan Campbell Wells
Santa Fe, NM (PRWEB) July 02, 2015
Sorrel Sky Gallery of Santa Fe is pleased to represent potter Alexis Adams, a member of the Cheyenne tribe. Adams draws from the forms of traditional Native American pottery and is inspired by indigenous plants found in the West. Her pottery designs reflect the simplicity and rustic sensuality of the California Arts and Crafts movement.
"Though my Cheyenne ancestors were not known for making pottery, pottery as a symbol and result of Native American tradition spoke to me to the extent that I had to find a way to create my own," Adams offered.
In keeping with Native American tradition, Adams' pottery is hand coiled. She carves into and adds clay designs to each pot's surface. She then applies terra sigillata, a refined colored clay slip used since Greek times, to create the rich color and subtle sheen visible on each pot.
Shanan Campbell Wells, owner of Sorrel Sky Gallery, offered, "Alexis' pots are a delight to behold – and to hold."
Her creative abilities, fostered in her early life by her parents who both were skilled wood- and metalworkers, were furthered by her studies at the San Francisco Art Institute where she received a B.F.A. in painting.
Adams and her younger sister, Victoria Adams, a well-known Cheyenne jeweler, won the Best of Pre-Show award at the 2014 Native Treasures Indian Arts Festival in Santa Fe for their collaborative vessel, "Dragonfly's Journey."
Sorrel Sky Gallery's fresh approach to Western art presents a select collection of contemporary and traditional fine art and jewelry for the discerning collector. Sorrel Sky Gallery was founded in Durango, CO in 2002 and opened its Santa Fe, NM location in 2014. It represents over 60 painters, sculptors and jewelers including bronze artist Star Liana York, painter Billy Schenck, and former U.S. Senator Ben Nighthorse, among others.