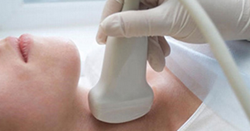 These ultrasound screenings detect early signs of heart disease, cancer, stroke and other serious medical conditions.
Irvine, CA (PRWEB) July 06, 2015
Longevity, the highest regarded provider of early screenings for disease prevention in southern California, has partnered with Woodbridge Walk-In Urgent Care to offer on-site health screenings. These ultrasound screenings detect early signs of heart disease, cancer, stroke and other serious medical conditions. Screenings are affordable and accurate and run about an hour long with same day results.
Early detection from Longevity detects many serious medical conditions. The specific screenings available are:

Echocardiogram - Evaluates overall heart health and function using digital ultrasound to detect early signs of heart disease.
Abdominal Cancer Screening - Screens for early signs of cancer in the liver, kidneys, pancreas, gallbladder and spleen using ultrasound.
Carotid Ultrasound - Screens for fatty plaque in the carotid artery to detect and helps prevent strokes.
Aortic Aneurysm Screening - Detects early signs of an aortic aneurysm using ultrasound.
Other screenings are available such as:

Pelvic Ultrasound Screening – Detects abnormalities in the uterus and ovaries.
Bone Density Screening
"These screenings provide a unique opportunity for anyone looking to take control of their health," said Michele Stagnaro, Practice Manager of Woodbridge Walk-In. "I'm excited to bring this unique screening service to Woodbridge Walk-In at just a fraction of the cost of hospital rates."
Woodbridge is the only Irvine urgent care that provides early detection screenings. Screenings come in pricing packages--offering a more affordable option for those looking to stay ahead of their health. To learn more about the Longevity screening service now available at Woodbridge Walk-In, visit: http://www.fccmg.com/longevity
ABOUT WOODBRIDGE WALK-IN:
Woodbridge Walk-In is a leading urgent care center that has served the Irvine community since 1979. The Irvine urgent care facility provides treatment and care for medical conditions that require immediate attention such as work injuries, fevers, broken bones, cuts and more. Woodbridge Walk-In has state of the art electronic health records, on-site digital x-rays, Prompt Pay discounts, and e-prescriptions sent directly to your pharmacy. The urgent care center has recently introduced a convenient online scheduling system to diminish the wait time of patients. Woodbridge Walk-In is renowned for providing an outstanding patient experience with skilled providers and compassionate staff.
Woodbridge Walk-In
4950 Barranca Pkwy. #104
Irvine, CA 92604
(949) 265-0442