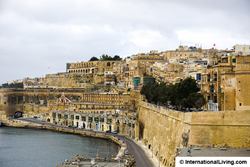 "Despite its year-round warmth, Malta still manages to have distinct seasons—to the surprise and delight of many expats," says InternationalLiving.com correspondent Gigi Griffis.
Baltimore, MD (PRWEB) July 01, 2015
Retirees interested in spending time in Europe should put the English-speaking Mediterranean islands of Malta and Gozo at the top of their "go-there" list, according to a new report from the overseas-retirement experts at InternationalLiving.com. These islands offer retirees a high quality, Mediterranean lifestyle with sandy beaches, warm weather, ancient cities, a rich cultural tradition, and low costs.
"Despite its year-round warmth, Malta still manages to have distinct seasons—to the surprise and delight of many expats," says InternationalLiving.com correspondent Gigi Griffis.
"Winter is mild and the days are often sunny. But it's also decidedly green—with fields of clover and other plant life spreading out, emerald, across the cliffs and between the towns, dotted by bunches of bright white chamomile. In summer, the landscape grows more barren, highlighting the hearty cactus and its pinkish prickly pears, and hot days drive everyone to the water, where Malta is known as a diver's paradise," Griffis says.
Malta's capital, Valletta, is the warmest in Europe. A well-preserved ancient city (built in the 16th century by the Knights of St. John), it is a popular tourist destination and a busy port town—at the height of summer, its docks play host to two cruise ships a day.
Valletta and nearby Sliema are lively year-round, with busy pedestrian walking areas, well-kept public parks, and hidden-away jazz clubs where music-lovers spill out onto the steps. There is also a wide variety of excellent restaurants.
An hour northwest of Valletta, St. Paul's Bay and the surrounding areas (including the well-kept and lively seaside town of Bugibba), have a reputation as an expat haven for a slightly older crowd of British families and retirees.
"When I first stepped foot on the pink-brick promenades that line the coast here, I immediately understood their love for this place. It's a little closer to nature than the capital, but it's still lively and popular, with sunny seaside walkways, busy bay-view restaurants, and distant views of fortresses, churches, and islands," Griffis says.
Gozo, the second-largest island in the Maltese island chain, is 25 minutes north of the main island by ferry and has a reputation for rural landscapes, quiet living, and lots of retirees.
"On Gozo, I enjoyed long coastal walks, with only the sound of the ocean beating the cliffs and the occasional bleating of goats grazing above me," Griffis says.
Although quieter than Malta, expats can enjoy plenty of amenities here. The town of Victoria is a hive of activity, full of shopping centers, a sports center, burger joints, and exceptional restaurants. There's also a hospital and two opera houses.
The cost of living—already a good value on Malta—is even lower on Gozo. Expats report living expenses here of between $1,800 and $2,400 a month (housing included), depending on their lifestyle. Property is inexpensive, too. A two-bedroom, two-balcony apartment near the sea, in the popular town of Xlendi, for example, lists at less than $150,000.
Another bonus of living on the islands: Maltese healthcare is very reputable—it's widely considered one of the best healthcare systems in the world—and costs are moderate. There are both public and private hospitals and clinics here.
The full report on why expats are choosing the Maltese islands as a retirement haven, can be read here: Culture, Convenience, and Affordable Living in Sunny Malta.
Members of the media have permission to reproduce the article linked above once credit is given to InternationalLiving.com. Photos are also available.
Media Contact: For information about InternationalLiving.com content republishing, available source material or to book an interview for radio, TV or print with one of our experts, contact Associate Editor Carol Barron, 772-678-0287 (US), CBarron(at)InternationalLiving(dot)com or visit the Media Center. For automatic updates on the most current stories, follow International Living Media on Twitter.
For 35 years, InternationalLiving.com has been the leading authority for anyone looking for global retirement or relocation opportunities. Through its monthly magazine and related e-letters, extensive website, podcasts, online bookstore, and events held around the world, InternationalLiving.com provides information and services to help its readers live better, travel farther, have more fun, save more money, and find better business opportunities when they expand their world beyond their own shores. InternationalLiving.com has more than 200 correspondents traveling the globe, investigating the best opportunities for travel, retirement, real estate, and investment.
###