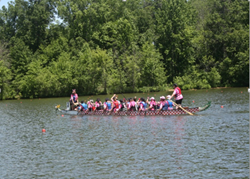 "We're incredibly proud to be involved with an organization like the Machestic Dragons." -Mike Saporito
HAMILTON, NEW JERSEY (PRWEB) July 01, 2015
Hamilton Honda is proud to announce that it was recently a sponsor of the 9th Annual Paddle for Pink Dragon Boat Festival hosted by the Machestic Dragons of Hamilton Square, a 501(c)3 nonprofit organization formed in 2002.
The Machestic Dragons are a dragon boat team comprised of breast cancer survivors and supporters from throughout the local Hamilton, New Jersey community and beyond.
The Paddle for Pink event took place on June 13 at Mercer County Lake Park, and featured dragon boat race teams from New Jersey, Pennsylvania and New York. More than 1,200 paddlers competed with the goal of raising awareness and support for breast cancer survivors.
A special ceremony was also held as part of the event, as seven dragon boats of breast cancer survivors and supporters paddled out to the center of the lake for a traditional flower release.
Paddle boat racing is a highly therapeutic sport that can assist participants with regaining physical strength and helps with emotional renewal. The Machestic Dragons, as well as the other teams that participated in the Paddle for Pink event, do so because it promotes a healthy lifestyle, teamwork and more.
"We're incredibly proud to be involved with an organization like the Machestic Dragons," said Mike Saporito, co-owner of Hamilton Honda. "The Paddle for Pink Dragon Boat Festival is a unique and incredibly enjoyable event, and supports a cause that the entire Hamilton Honda family can get behind. We plan to be involved with this event for years to come."
ABOUT HAMILTON HONDA
Hamilton Honda was founded by former New York Giants Pro-Bowl linebacker Jessie Armstead and automotive veteran Mike Saporito, and opened its 65,000-square-foot, state-of-the-art facility in Hamilton, New Jersey, on May 19, 2009. The dealership has earned numerous accolades, including the Hamilton Township New Business Award, Hamilton Community Enrichment Award and "Dealer of the Year" at the 15th Annual Urban Wheel Awards in Detroit. The dealership has also been recognized with the Council of Excellence Award in 2010, 2011, 2012, 2013 and 2014. To learn more about Hamilton Honda, visit http://www.hamiltonhonda.net/.