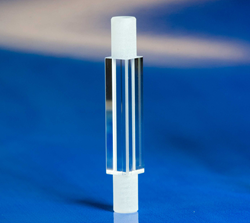 Brooklyn, NY (PRWEB) July 13, 2015
Flow cytometry cells are in high demand in the hematology, HPLC, particle counting, and flow cytometer field. Manufacturers invest hundreds of thousands of dollars and hundreds of hours of manpower in researching the best components to go into their machines. The unbelievably devastating news for these dedicated engineers is that their hard work can go right down the drain unless they use a high quality flow cell.
For decades now a quartz flow cell can be found at the heart of any machine involved in small particle research. Quartz flow cells have been a reliable way for companies to make sure that they get a good spectrum range of 190-2,500nm. As companies improve their technology and the demands of higher transmission ranges becomes more common the small transmission range of UV quartz is shockingly limited.
This is where FireflySci is making their mark in the flow cytometry cell field. FireflySci has an incredible manufacturing technique for making contacted bonded sapphire flow cells. What this means for flow cytometer manufacturers is that they can extend the range of their machines from 190-2,500nm to an awesome range of 250-5,000nm. This is incredibly handy for companies building machines that need to go deep into the IR range.
In addition to the explosive range of sapphire, it also offers many other benefits over quartz. This material can withstand extreme temperature changes and has an extreme hardness making it more durable than quartz. Sapphire also has unsurpassed thermal conductivity and is more scratch resistant than quartz.
FireflySci is the only company in the world that can offer optical contact bonding using a sapphire material. There are a few ways to assemble a flow cytometry cell, such as fire fusing, thermal fusion, and fritting. These methods pale in comparison to the accuracy and strength of optical contact bonding. Thermal fusion is the most popular bonding for flow cells but due to the high heat, manufacturers are unable to meet the tight tolerances being demanded today. The high heat causes major distortion to the cell walls resulting in walls that are not perfectly flat.
Using a combination of optical contact bonding and sapphire material is a killer formula for making the best flow cytometry cell in the world. Engineers get the massive transmission range plus they get all of their tolerances met. There is nothing more frustrating than having to work around manufacturing limitations. FireflySci gives optical engineers the freedom to design what they actually need and not what they are forced to accept due to manufacturing roadblocks.
Companies can rest assured that when they work with FireflySci they will not only get an amazing flow cell, but also an unbeatable guaranty and friendly customer service.
For more information or to get a quote visit http://www.fireflysci.com.