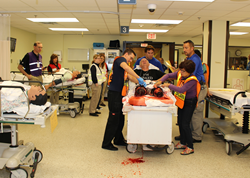 I want to be able to equip the hospital with the critical knowledge about various hazards and ways to overcome them as a team.
Anniston, AL (PRWEB) July 02, 2015
Five individuals from Loma Linda University Health recently traveled to FEMA's Center for Domestic Preparedness (CDP) in Anniston for specialized disaster training. The team – composed of four clinicians and one administrative staff member – were among 115 individuals from the Southern California Hospital Association who attended the training, which is dedicated to preparing first responders for a mass casualty event.
Georgann Smith, an emergency management specialist at Loma Linda University Health, participated in the training for the first time with Loma Linda, however she has taken advantage of 13 of CDP's training programs over the last seven years. "As an emergency management specialist," she said, "I need to continue to train and develop my skills for communicating and executing a successful program."
Smith has worked in various hospitals in Southern California, but admits she has never encountered a large disaster. "Loma Linda University Medical Center still has risks and we need to prepare for the inevitable," she said. "I want to be able to equip the hospital with the critical knowledge about various hazards and ways to overcome them as a team. The Center for Domestic Preparedness and its staff gave us the best tools to bring materials and best practices back to Loma Linda."
Smith, along with Leah Walters, MD, Karen Greeley, RN, and Shawn Reynolds, RN, took part in the Health Care Leadership for All-Hazards Incidents class, a four-day course which exposes health care professionals to the dynamics involved in the decision-making processes during an all-hazards disaster involving mass casualties.
James Parnell, RN, a charge nurse in the Loma Linda University Medical Center (LLUMC) emergency department (ED), was in the Hospital Emergency Response Training for Mass Casualty Incidents (HERT), a three-day course designed to provide medical operation guidance to hospitals, emergency medical services, healthcare facility personnel, and others who may become involved in a mass casualty incident. The course provides the health care emergency receiver with an understanding of the relationship between a hospital incident command system, a scene incident command system, and other incident management systems used by municipal Emergency Operations Centers. The hands-on course also provides guidance for HERT design, development, and training.
In addition to the training, the healthcare professionals who visited the CDP took part in an integrated capstone event (ICE), a mass casualty event, on their final day of training. The scenario was a terrorist attack on public transportation near the stadium where a sporting event was taking place. The students worked under pressure in temperatures that exceeded 90 degrees and nearly 100 percent humidity
The team all agreed that the ICE was extremely realistic and prepared them—not just for an emergency situation—but for everyday life in the ED.
Reynolds, paramedic liaison nurse at LLUMC, was given the role of ED secretary during the final drill. "Learning someone else's role in an emergency situation is valuable," he said. "The drill tests you to the limits and is good practice for my position in the ED where there can be an influx of patients at any given time."
The CDP's primary mission is to train state, local and tribal emergency response providers, as well as the federal government, foreign governments, and private entities, as available. A popular aspect of the courses is the hands-on training with a multi-disciplined audience. In addition, the CDP is the only civilian facility that trains with toxic chemical and live biological agents. The center also has the only hospital facility in the United States dedicated solely to training hospital and health care professionals in disaster preparedness and response.
"The CDP has trained more than 880,000 students in our resident, non-resident and train-the-trainer courses," said CDP superintendent Mike King. "All of our courses are relevant, realistic and advanced. We strive to provide training that most departments cannot offer through their local and state training programs."