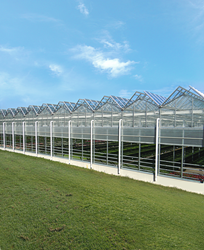 When you partner with Rough Brothers, you work with the most dependable and knowledgeable greenhouse and conservatory representatives in the industry.
Cincinnati, OH (PRWEB) July 02, 2015
For over 80 years RBI has serviced the greenhouse industry with a timeless philosophy of providing the highest level of service and highest quality products. This philosophy has helped Rough Brothers grow and expand its design, engineering, manufacturing, distribution, and installation services. To service the greenhouse market Rough Brothers has added three additional manufacturing facilities and acquired two companies to broaden the company's product offerings. In 2015, Rough Brothers was acquired by Gibraltar Industries which positions the company to continue its growth into the future.
Partnering with Rough Brothers ensures to work with the most dependable and knowledgeable greenhouse and conservatory representatives in the industry. RBI representatives use their floriculture experience to help its customers to identify the best greenhouse solution and work through any challenge they may encounter throughout the process. Rough Brothers offers the highest quality greenhouse or conservatory structure on the market. RBI greenhouses are designed with all the environmental systems in mind, ensuring a seamless integration between equipment and systems.
About Rough Brothers, Inc. (RBI)
Rough Brothers, Inc. has designed, engineered, manufactured and constructed greenhouses and related systems since 1932. For over 80 years, the company has provided the highest quality, best-crafted and most reliable greenhouse structures to the most successful growers, educators, researchers and exhibitors in the industry. Known for high quality greenhouse & conservatory structures with fully integrated systems including material handling, heating, cooling, ventilation, irrigation systems and environmental controls, the company is the leading structures and systems company in North America. Click here to learn more: http://www.roughbros.com
About Gibraltar
Gibraltar Industries is a leading manufacturer and distributor of building products for the industrial, infrastructure and residential markets. With a four-pillar strategy focused on operational improvement, product innovation, acquisitions and portfolio management, Gibraltar's mission is to drive best-in-class performance. Gibraltar serves customers worldwide through facilities in the United States, Canada, England and Germany. Comprehensive information about Gibraltar can be found on its website at http://www.gibraltar1.com.