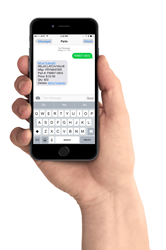 Parts Town is committed to making our customers' lives easier through constant innovation."
Addison, IL (PRWEB) July 06, 2015
Parts Town, a market leader in restaurant equipment parts distribution and source of the most in-stock parts on the planet, is proud to announce the implementation of another new technology.
Parts Town has added texting capability to its main toll-free phone number – 800-438-8898 - to make parts identification faster and easier than ever before. Customers can now text their part number, equipment model, or order number and get immediate, automated responses. This system will be able to provide such information as part pricing, availability, links to equipment manuals, and order tracking information.
Parts Town customer experience representatives will also be available to respond live to more detailed questions. Texting the word "Chat" or any sentence-long request will automatically alert a representative, who will respond promptly.
For an even more personal experience, customers can link their Partstown.com account to their mobile phone number.
"Parts Town is committed to making our customers' lives easier through constant innovation," said Parts Town CEO Steve Snower. "We are excited about the launch of this new mobile technology."