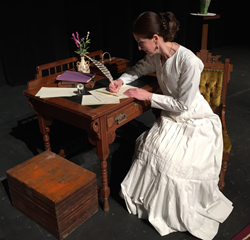 Being able to perform an American Classic in a barn that hundreds of people flock to, says to me that the arts are thriving.
Minneapolis, MN (PRWEB) July 02, 2015
The Dreamery Rural Arts Initiative in Wykoff, MN continues its series "Play! in the Barn" on Friday, July 3rd with "The Belle of Amherst." The one woman show will be performed by actress Catherine Glynn in the role of Emily Dickinson.
Glynn first performed in the play 26 years ago in connection with her senior thesis project at The College of St. Benedict. She revisited the piece for the first time since that experience this past February at the St. Mane Theatre in Lanesboro in connection with Lanesboro Arts. Glynn followed up that performance with stagings at Winona State University and The Grand Marais Playhouse.
In "The Belle of Amherst," written by William Luce, poet Emily Dickinson invites audiences into her lifelong home in Amherst, Massachusetts. Weaving together Dickinson's letters, diary entries and poems, acclaimed playwright Luce provides an intimate portrait of one of America's most well-known and beloved poets.
Glynn, a member of Actors' Equity Association has over one hundred and fifty live theatre credits, including solo performances of Theresa Rebeck's "Bad Dates" at the New American Theatre in Illinois and her adaptation "Fire in Her Soul" based on Robert Schenkkan's "Kentucky Cycle" and performed in Austin, Texas. She holds MFA degrees from The University of Texas at Austin and The University of Delaware Professional Theatre Training Program.
In addition to her career as an actress Glynn is also the director of an executive coaching firm Voce Veritas and serves as the co-Chair of Lanesboro, Minnesota's EDA.
When asked about performing in a barn, Glynn replied, "Live theatre is my passion. Being able to perform an American Classic in a barn that hundreds of people flock to, and living in a rural community where my husband is a full time resident ensemble of a successful year round rep theatre, (the Commonweal,) says to me that the arts are thriving."
On returning to the role 27 years after first perfuming is Glynn says she is grateful to revisit it with more depth and maturity. Audience members who saw both Julie Harris (who took the role to Broadway and earned a Tony for it, and Glynn who hopes to settle into a run of it in the near future) say Glynn is, "equally as captivating in the role as Harris." "She makes it her own and it's a lovely production to behold."
"The Belle of Amherst" at Dream Acres Rural Arts Initiative takes the stage on Friday, July 3rd at 8:30pm. The popular wood-fired pizza menu will be available from 5-8pm prior to the performance. For more information about the performance and the live theatre/rural arts program at DreamAcres, phone 507-352-4255.