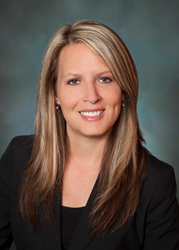 "Colorado is a booming technology hub with a newly established satellite patent office," said Bayton. "I'm excited to continue to grow our IP presence in Denver in keeping with both our clients' interests and the strategic vision for the firm."
Denver, Colorado (PRWEB) August 03, 2015
Lewis Roca Rothgerber LLP is proud to announce that Emily A. Bayton, co-practice group leader of the firm's Intellectual Property practice group, has relocated to the firm's Denver office.
"Colorado is a booming technology hub with a newly-established satellite patent office," said Bayton. "I'm excited to continue to grow our IP presence in Denver in keeping with both our clients' interests and the strategic vision for the firm."
Along with co-chair Michael McCue, Bayton oversees Lewis Roca Rothgerber's intellectual property practice, which represents clients around the world from the firm's offices in Denver, Phoenix, Las Vegas, Albuquerque, Tucson and Silicon Valley.
Her own practice is primarily focused on helping her clients protect and defend their trademarks in the United States and around the world. She also has considerable experience in other areas of intellectual property including copyright and rights of publicity. Bayton's clients come from a variety of industries including consumer goods and services, education, sports and many others.
Bayton holds a J.D. from the University of Iowa College of Law and a B.B.A., with honors, from the University of Iowa.
About Lewis Roca Rothgerber LLP
Lewis Roca Rothgerber LLP is one of the largest law firms in the Western U.S. The firm maintains thriving practices in litigation, real estate, business transactions, intellectual property, regulatory affairs, gaming, banking, bankruptcy and energy and natural resources with more than 250 attorneys across nine offices in Phoenix, Albuquerque, Casper, Colorado Springs, Denver, Las Vegas, Reno, Silicon Valley and Tucson. For additional information, please visit http://www.LRRLaw.com.