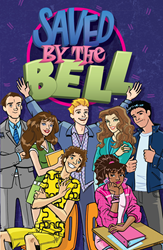 ""I know firsthand that Lion Forge cares about what's important to all of us; that the characters ring true from the past to the present." -- Dennis Haskins (Principal Belding)
St. Louis, MO (PRWEB) July 01, 2015
While the classic teen sitcom Saved By the Bell aired its last episode way back in 1994, Zack, Slater, Kelly, Lisa, Screech, and Jessie live on today in fondly remembered blog posts, listicles, and a recent TV reunion on The Tonight Show Starring Jimmy Fallon. Now, fans of the unique on-screen chemistry, wholesome humor, and zany antics of the original have something new to look forward to as an official Saved By the Bell graphic novel from Roar, the young readers imprint of Lion Forge Comics, hits bookstore shelves.
"I have had the privilege of getting to know the people at Lion Forge who have created the new Saved by the Bell comic book franchise," said actor Dennis Haskins, who portrayed Bayside High's Principal Belding on the show. "I know firsthand that they care about what's important to all of us; that the characters ring true from the past to the present. I hope everyone enjoys this new version of Saved by the Bell."
Relatable but safe for younger kids, a whole generation grew up watching the misadventures of these teen idols on the classic television series. At a time when Saturday morning was ruled by cartoons, the show ushered in an era of live-action tween comedies that still reigns supreme. Roar Comics Senior Editor Adam Staffaroni aimed to recapture this vitality when creating the new stories featured in the graphic novel.
"The continued popularity of the show for more than 20 years is a testament to how iconic these characters are," Staffaroni said. "We couldn't think of a better way to bring fans back to Bayside than to send the characters back to their freshman year and open up a world of story possibility. They now have the one thing the rest of us never get -- a chance to relive their high school years."
Saved By the Bell maintains the episodic feel and tight comedic timing of the TV series thanks to veteran television scribe Joelle Sellner (Teen Titans, Avengers: Earth's Mightiest Heroes) who scripted the volume. The characters come alive through expressive illustrations by multiple Eisner Award-nominated Chynna Clugston Flores (Blue Monday, Queen Bee) and Tim Fish (The Graphic Canon, Uncanny X-Men: Nation X). The creative team will be promoting the book at a series of convention appearances around the country, including next week's Comic Con International in San Diego, CA.
Roar Comics titles (including Saved By the Bell) are available on all digital platforms, and the print volume, produced with IDW Publishing, is available today everywhere books are sold. Saved By the Bell content is developed through a licensing agreement with Universal Partnerships & Licensing.
About Lion Forge Comics
Lion Forge is a St. Louis-based transmedia studio with a focus on digital publishing. With both original and licensed titles, Lion Forge brings together the brightest talent to acquire and develop content and character franchises within the comic book, television, film, and interactive gaming industries. Lion Forge applies cinematic elements to each property to create compelling, story-driven experiences from start to finish, bringing unique entertainment experiences to both traditional and digital marketplaces. For more information, please visit lionforge.com or the Lion Forge Facebook and Twitter  pages.
Saved by the Bell is a trademark and copyright of NBCUniversal Media, LLC. Licensed by Universal Studios Licensing LLC 2015. All Rights Reserved.
About Universal Partnerships & Licensing
Universal Partnerships & Licensing (UP&L) oversees NBCUniversal's consumer product and digital licensing for Universal Pictures, NBC Television, Focus Features and Sprout Channel.  This dedicated division is also responsible for film, home entertainment and television promotions.  UP&L is part of NBCUniversal. NBCUniversal is one of the world's leading media and entertainment companies in the development, production, and marketing of entertainment, news, and information to a global audience. NBCUniversal owns and operates a valuable portfolio of news and entertainment television networks, a premier motion picture company, significant television production operations, a leading television stations group, world-renowned theme parks, and a suite of leading Internet-based businesses. NBCUniversal is a subsidiary of Comcast Corporation.
About IDW Publishing
IDW is an award-winning publisher of comic books, graphic novels and trade paperbacks, based in San Diego, California. Renowned for its diverse catalog of licensed and independent titles, IDW publishes some of the most successful and popular titles in the industry, including: Hasbro's The TRANSFORMERS, G.I. JOE and MY LITTLE PONY; Paramount/CBS's Star Trek; Nickelodeon's Teenage Mutant Ninja Turtles; 2000AD's Judge Dredd; The Rocketeer; Toho's Godzilla; Zombie vs Robots by Chris Ryall and Ashley Woods; Ragnarök from Eisner Award-winner Walter Simonson; and Little Nemo from the award-winning duo of Eric Shanower and Gabriel Rodriguez. IDW is also home to acclaimed imprints such as the Library of American Comics, which publishes classic comic reprints, Yoe! Books, a partnership with Yoe! Studio, IDW Artist's Editions, and Top Shelf Productions.
IDW's critically- and fan-acclaimed series are continually moving into new mediums. Currently, Jerry Bruckheimer Films and Disney are creating a feature film based on World War Robot; Dwayne "The Rock" Johnson and Warner Brothers are producing a film based on Ashley Wood's Lore; Michael Bay's Platinum Dunes and Sony are bringing Zombies vs. Robots to film, Alex Kurtzman is producing a movie based on Locke & Key at Universal.
# # #
For additional info, review copies, or images:
Jesse Post, Marketing Director
857-544-6281 | jessepost(at)lionforge(dot)com