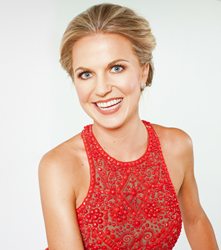 Katerina Brosda's cover in the South Florida edition of Top Agent Magazine has earned its place because of Brosda's commitment to providing the best real estate service available
Miami, FL (PRWEB) July 02, 2015
Katerina Brosda, who serves as principal broker and president at Brosda & Bentley, a boutique Miami real estate sales and international marketing company, is on the July cover of Top Agent Magazine.
Top Agent Magazine is the premier real estate magazine featuring the best real estate agents in the USA, Europe, Canada and Australia. The South Florida edition of the magazine recently interviewed Katerina Brosda about her real estate career and now features a 6-page article in its current issue. Top Agent Magazine only features the top-producing and most accomplished agents in the real estate industry, offering an in-depth look at their careers and providing a blueprint for their success. The real estate magazine first launched in Los Angeles and quickly expanded across the country and the world.
Top real estate agents from California to New York, Washington to Florida, and throughout Europe and Canada clamor to be featured on the cover of Top Agent Magazine. It is considered a privilege to be nominated and especially to receive the honor of being featured on the cover - as it speaks to a certain level of success.
Top Agent Magazine is by design, an educational publication, from which real estate agents can glean insight into how the best real estate agents and brokers in South Florida rose to the top. Laden with valuable marketing tips, real estate agency best practices, and insight into South Florida real estate trends; articles in Top Agent Magazine have depth and weight.
Katerina Brosda's cover in the South Florida edition of Top Agent Magazine has earned its place because of Brosda's commitment to providing the best real estate service available. Katerina Brosda's innovative approach to marketing Miami homes for sale, being renowned for pairing South Florida home buyers with their perfect home, and being an expert at negotiating home sales and purchase prices makes her stand out.
Brosda & Bentley has risen under Brosda's leadership to an independent, premium brand luxury real estate sales and international marketing powerhouse that provides its clients with sound advice and the savvy market intelligence they need to make an informed decision. The company works with home buyers, sellers, investors, vacation home seekers and is a relocation specialist.
The only real estate magazine written for top real estate agents about top real estate agents, Top Agent Magazine has set itself apart as a trusted source of real estate information and inspiration.