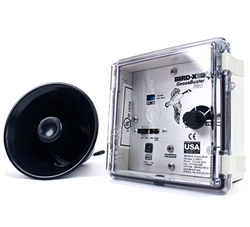 The new single-speaker GooseBuster PRO humanely scares geese away from areas up to an acre and a half
(PRWEB) July 02, 2015
International bird control experts Bird-X, Inc. introduces its newest product, which has been developed with over 30 years' research and field tests. The new single-speaker GooseBuster PRO humanely scares geese away from areas up to an acre and a half, building on the success of the larger 4-speaker Original GooseBuster.
"We're very excited to get this product to market. Our customers have been requesting a goose repeller for smaller areas for some time," Bird-X President Dennis Tilles said July 1. "We have decades of scientific data proving the effectiveness of our sonic goose repeller. Our original unit has helped to eliminate the health hazards and cleanup costs caused by geese droppings in large public areas for years. Now we have developed a unit that delivers the same sonic repelling efficacy that is less expensive and designed to cover smaller areas."
Featuring the world's first actual alert and alarm calls naturally recorded in the wild, the GooseBuster PRO covers treated areas by broadcasting sounds without any chemicals, poisons or mess, is harmless to children, pets and people, and is completely humane to the birds. Combining sounds that have proven effective for three decades with newer discoveries such as shotgun sounds and coyote barks, the GooseBuster PRO is the most technologically advanced goose repellent system on the market today.
Ideal for condo associations, business parks, lakefront properties, and any small area with goose problems, the GooseBuster PRO addresses the need to keep areas free from geese and their droppings. The unit is completely customizable, and calls can differ in frequency, duration, and intervals, and may be combined or randomized, giving the user complete control of the sounds emitted.
The original GooseBuster has already proven itself to be the industry standard in goose control, used for years at golf courses, government properties, large corporations, and agriculture. Like all other Bird-X electronic products, the GooseBuster PRO comes with a 6-month warranty and 30-day electronics satisfaction guarantee, as well as full product support to ensure complete customer satisfaction.
Bird-X, Inc. has spent over 50 years as the leading international brand of humane bird control solutions and is dedicated to protecting the health of humans, wildlife, and the environment in which we all live. The Chicago-based company manufactures a complete line of unique bird control products.