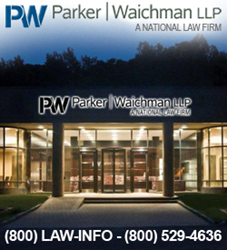 Port Washington, NY (PRWEB) July 01, 2015
Senator Gillibrand is the Senate sponsor of the James Zadroga 9/11 Health and Compensation Reauthorization Act" (S.928/HR.1786) and will be Jon Stewart's guest on "The Daily Show" discussing her efforts to see the Act reauthorized and its programs, the World Trade Center (WTC) Health Program and the September 11th Victim Compensation Fund (VCF), fully funded, according to a July 1, 2015 report issued by the Citizens for the Extension of the James Zadroga Act. July 1st, 2015 marks the fourth anniversary of the law that went into effect on July 1, 2011.
Parker Waichman notes that many injured and ill first responders require the Zadroga Act's benefits to manage serious health conditions and medical expenses. The WTC Health Program and VCF comprise the Zadroga Act's program. The WTC Health Program provides medical treatment and monitoring, while the September 11th VCF provides compensation.
Parker Waichman actively worked toward the 2010 passage of the Zadroga Act, including taking part in grass roots and lobbying efforts and trips to the nation's capital led by Matthew J. McCauley, Senior Litigation Counsel at Parker Waichman, often, along with the firm's clients. Mr. McCauley and Parker Waichman continue to support the Zadroga Act and the efforts to extend the Act's timeline and its scope.
"These individuals sacrificed their health and well-being on and following the events of 9/11, and now they are suffering because of it," said Mr. McCauley. "We are thrilled to see Senator Gillibrand spreading the word and information on the efforts of this critical Act."
Mr. Stewart has long been a supporter of the Zadroga Act and ongoing efforts for its expansion. "We applaud Mr. Stewart for continuing his work on the Act's extension by ensuring increased public awareness of the activities surrounding the Act and its programs and the need to expand the upcoming deadline," said Mr. McCauley.
Parker Waichman comments that renewing the Zadroga Act may save the lives of many 9/11 first responders and survivors. "These responders selflessly answered the call for help; they and their families deserve Zadroga benefits," said Gary Falkowitz, Managing Attorney at Parker Waichman.
Parker Waichman, which worked, and continues to fight, alongside Ground Zero first responders, survivors, and their advocates, to help ensure passage of the Zadroga Act and its amendments, vows to continue its efforts to safeguard these heroes and ensure that they receive all of the Zadroga Act compensation they deserve. If you or a loved one are eligible for compensation under the Zadroga Act, and would like assistance with your claim, or if you or a loved one have been injured as a result of toxic exposure, please visit Parker Waichman's website YourLawyer.com or call 1-800-LAW-INFO (1-800-529-4636).