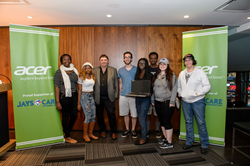 As an Official Partner of the Toronto Blue Jays, we are delighted to support these hard-working students in their studies at home, in the classroom and beyond.
MISSISSAUGA, Ontario, Canada (PRWEB) July 07, 2015
As part of the Jays Care Home Run Scholars Program, Acer Canada today announced its donation of 80 laptops to promising students selected by Jays Care Foundation, the Toronto Blue Jays' charitable organization.
"As an Official Partner of the Toronto Blue Jays, we are delighted to support these hard-working students in their studies at home, in the classroom and beyond," said Terry Tomecek, General Manager, Acer Canada. "Technology is critical in our lives today. By providing these students with the resources they need to be successful, we are preparing them to be the leaders of tomorrow."
On the evening of June 18, these Home Run Scholars students were honoured in a suite at Rogers Centre and given Acer's stylish Aspire V3-572P-54CF notebook. Valued at $729, this model features a high-definition 15.6-inch touchscreen, a fast Intel® Core™ i5-4210U 1.70GHz processor, 12GB of memory, 1TB hard drive, Windows 8.1 and a webcam.
The Home Run Scholars program assists youth in targeted communities to graduate from high school and transition into post-secondary education or training. It helps students pursue their educational and career goals through mentoring, tutoring and financial support. The program has doubled high school graduation rates among participants, and dropout rates have declined by as much as 70 percent in participating communities. In 2014, Jays Care Foundation expanded the Home Run Scholars program through a $1 million national partnership with Pathways to Education.
"Technology has transformed our lives in many ways and we believe working to prepare our youth to be successful adults will do the same for our communities," said Robert Witchel, Jays Care Foundation Executive Director. "We are thrilled that Acer has given these students real-world tools that will help them succeed in high school as well as prepare them for the world beyond, whether it's a post-secondary education or a vocational career."
"Into their second year as a partner with the Toronto Blue Jays, Acer has been instrumental in helping us benefit our local communities. We are delighted that Acer has chosen to support our local students through their contributions to the Jays Care Foundation and the Home Run Scholars program," added Mark Ditmars, Vice President of Corporate Partnerships for the Toronto Blue Jays.
Acer became an Official Partner of the Toronto Blue Jays in 2014 and renewed its status as a partner for the 2015 baseball season. As exclusive category partner for laptops and tablets, Acer's presence is again highlighted by marketing programs and stadium promotions designed to enhance the baseball experience while at Rogers Centre.
About Acer
Established in 1976, Acer is a hardware + software + services company dedicated to the research, design, marketing, sale, and support of innovative products that enhance people's lives. Acer's product offerings include PCs, displays, projectors, servers, tablets, smartphones, and wearables. The company is also developing cloud solutions to bring together the Internet of Things. Acer employs 7,000 people and ranks No. 4 for total PCs globally (IDC 2014). Revenues for 2014 reached US$10.39 billion. Please visit http://www.acer.com for more information.
© 2015 Acer America Corp. All rights reserved. Acer and the Acer logo are registered trademarks of Acer Inc. Other trademarks, registered trademarks, and/or service marks, indicated or otherwise, are the property of their respective owners. Prices listed are manufacturer suggested retail prices and may vary by location.