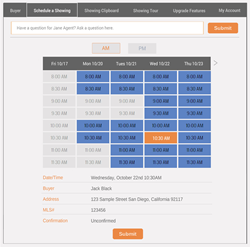 Showing Suite is a unique service for the MLS because they offer a base package of features for all members in the MLS at no cost.
San Diego, CA (PRWEB) July 09, 2015
Showing Suite, Inc. announcing the next integration of free agent tools for Humboldt Association of REALTORS® (HAR) MLS. HAR will provide its members with Showing Suite's MLS showing scheduling system. Agents that subscribe to HAR's MLS will have access to state of the art tools developed by Showing Suite for real estate agents.
"Our mission here at Humboldt Association of REALTORS® is to provide our clients with the best possible service. Whether helping to sell or buy a home, we look forward to offering greater transparency and up to date tools for our agents. It is our desire to put the needs of our clients and community first and are confident that Showing Suite will help us to all that and more."

Lois Lee Busey, Executive Officer
HAR members will be able to log on to Showing Suite through Single Sign On and schedule showings directly in the MLS. Each listing will have a "Schedule a Showing" button to access the showing calendar linked to each agent's account.
Showing Suite is a unique service for the MLS because they offer a base package of features for all members in the MLS at no cost. Each agent in the MLS can schedule showings, email automated appointment confirmations, view showing history, and access the Showing Note app. In the Showing Note app, agents can share all the information from showings with their clients. This paperless tool shows listing information as well as create a space for those involved in the showing to take pictures, notes, videos, and share with each other.
When subscribers upgrade to Showing Suite Ultimate, they are granted full access to the suite of tools available to paid subscribers. Agents can gather feedback from listings with the Home Feedback system, coordinate their schedule with the Showing Calendar, take advantage of the built in Followup CRM system, evaluate performance with satisfaction surveys, give sellers increased transparency with the seller portal, and access it all on the go with the Showing Suite mobile app.
When upgrading from the free version, Listing Sync becomes enabled. Listing Sync pulls the agent's listings into their Showing Suite account saving agents the hassle of having to manually enter listing information. Once the listings are imported into the agent's account, it keeps all the information organized in one place, allowing easy access to view and make changes. Any changes made to the listing within their Showing Suite account will automatically update in the MLS, saving time and ensuring the most up to date information is displayed.
Showing Tours, an interactive tool to map out showings, is another feature available in Showing Suite Ultimate. Buyers' agents have the advantage of providing a detailed showing itinerary for their clients. Instructions from the listing agent, personal reminders, and notes for the client are displayed next to each "road map". This can all be printed, shared through Showing Note, or emailed to each party involved.
About Humboldt Association of REALTORS®
The Humboldt Association of REALTORS® was founded over 90 years ago and provides services that enhance the knowledge and resources for real estate professionals and the communities they serve through ongoing education, training, information and support services. In partnership with business affiliates, HAR adds value to the community by advocating private property rights, providing community service, and promoting quality of life. To learn more visit HARealtors.com.
About Showing Suite, Inc.
Showing Suite, Inc. develops and implements market-leading tools that allow real estate professionals to sell homes smarter and faster. Since 2001, the company has brought a suite of web-based software solutions for the real estate sector to market, including its flagship product, HomeFeedback®, as well as Home Followup, Listing Sync, Showing Sync®, ForeclosureFeedback®, and Showing Calendar®. Since inception, Showing Suite™ has helped more than 900,000 real estate professionals in the U.S. and Canada retrieve valuable feedback from potential buyers to increase home sales. To learn more visit ShowingSuite.com.
# # #
If you would like more information about this topic, please contact Michelle Costa at 858.270.1055 or email at MichelleC(AT)ShowingSuite.com.