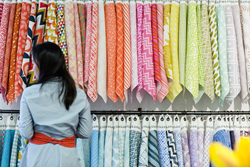 Guildery solves the problem of color-coordination for the home through seemingly limitless color options and designs.
Los Altos, CA (PRWEB) July 02, 2015
The Guildery Inc. announces the success of its first pop-up store in downtown Los Altos, CA, which was open to the public on May 13, 2015. Only open two months, the store has already seen a lot of traffic and is the base from which Guildery has continued to form partnerships with leading interior designers. The sunny space at 170 State Street serves as a comfortable showroom for homeowners and interior designers who can experience the company's decorative fabrics and home accessories. Customers are able to drop in or make appointments with a Design Manager for assistance with placing orders on Guildery.com. A selection of decorative throw pillows are available for immediate purchase.
Guildery is a new online service that makes color coordination easy for home decorating. The company curates exclusive, artisanal textile designs, edits them into color-coordinated collections, and then prints them on-demand using 12 high quality materials. The designs come from leading artists and interior designers including Lindsey Coral Harper, Bridgid Coulter, and Chris Barrett. The fabrics are available by-the-yard or as finished products, such as pillows, drapery, ottomans and wallpaper. Guildery offers a designer look at an accessible price and ships within a couple weeks for many custom items.
Guildery's expansion into offline retail offers a unique opportunity to service customers while demonstrating the power of its digital printing platform. Customers are invited to bring in photos of items they already own or color swatches they like and Guildery Design Managers can custom color most fabric designs to an acceptable match. Guildery offers hundreds of designs in thousands of colors. "Having decorated homes professionally, I know how frustrating it can be to fall in love with a pattern, but want it in a different color, or have a color in mind, but then have to spend hours hunting for a fabric that meets my vision," said Shane Reilly, Guildery CEO and Co-Founder. "Guildery solves the problem of color-coordination for the home through seemingly limitless color options and designs."
Also in May, Guildery opened a shop-within-a-shop at Anyon Atelier, a home decorating boutique on San Francisco's stylish Sacramento Street. Anyon features a selection of products as well as a curated collection of Guildery fabrics.
For more information about The Guildery Shop please visit their site.