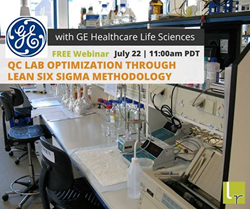 Yorba Lind, CA (PRWEB) July 02, 2015
A team of quality control (QC) experts at GE Healthcare, led by Neal Dunne, PhD, QC manager, have adopted Lean methodology in their QC laboratory for enhanced workflow. Now, Dr. Dunne's lab has set a lofty goal: to become the first Certified Lean Six Sigma Laboratory within the GE Healthcare Diagnostic Imaging network.
Join the team members for a new, free educational webinar sponsored by GE Healthcare Life Sciences, "QC lab optimization through Lean Six Sigma methodology," and go behind the scenes to learn about their endeavors. Discover how they benchmarked other nearby manufacturers, delved deeply into their own QC processes, and achieved exceptional progress in optimizing workflows. They will also discuss future goals.
A live question-and-answer session will follow the presentation.
Meet the team:
Dr. Neal Dunne has a PhD in industrial microbiology and 15 years' experience within the food and pharmaceutical industries. He has worked in technical and management roles within QC and quality assurance (QA) for the past 8 years. Dr. Dunne led a Lean laboratory project within QC beginning in 2012, and has undertaken Six Sigma training and completed a Green Belt project.
Aisling McAuliffe, QC specialist, has worked at GE Healthcare for 16 years, as a QC Finished Product Group leader for 15 years, and in her current role since 2014. McAuliffe is working on her first QC Green Belt project, recently completed Lean lab certification training, and is working on implementing a certified Lean lab in Cork, Ireland.
Donal O'Callaghan, QC Finished Product Group leader, is a qualified Six Sigma Green Belt with more than 12 years' experience in the pharmaceutical industry. He joined GE Healthcare Cork in 2014. Earlier, he worked with MSD Cork, Ireland, in Lean Six Sigma support roles, implementing Lean labs across the microbiology, chemistry, bioassay, and raw materials labs.
Giles Barton, product specialist, has spent 25 years optimizing varied filtration techniques in support of lab testing. He now advises R&D, manufacturing, commercial teams, and the company's customers in application-specific uses of the Whatman product range. Barton has a bachelor's degree in biochemistry and a master's degree in science in education and communication.
The complementary webinar, hosted by LabRoots, will be presented on July 22, 2015, at 16:00 CET/10 am EDT/7 am PDT.
For full details and free registration, click here.
About GE Healthcare Life Sciences:
The Life Sciences business of GE Healthcare enables and accelerates molecular and precision medicine. It does so by empowering researchers with the innovative tools and analytics to research and develop tomorrow's therapeutics, enabling increasingly accurate diagnoses by providing advanced in vivo imaging agents and in vitro diagnostics, and helping to create the future of regenerative medicine and cell therapy with customers by providing novel tools, technologies, and methods.
About LabRoots:
LabRoots is the leading scientific social networking website and producer of educational virtual events and webinars. LabRoots is a powerful advocate in amplifying global networks and communities, and contributing to the advancement of science through content sharing capabilities and encouraging group interactions.
Founded in 2008, LabRoots emphasizes digital innovation in scientific collaboration and learning. We have become a primary source for current scientific news, webinars, virtual conferences and more. Join for free and become part of the largest scientific learning community in the world.