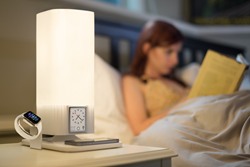 PALO ALTO, Calif. (PRWEB) July 02, 2015
Sleepless nights will become obsolete as Luzi, a sophisticated smart lamp designed to improve an individual's quality of sleep, launched its Indiegogo campaign on June 23. Sound sleepers and the sleep deprived both will love Luzi for its design and functionality: Luzi's voice command technology makes it effortless to use, while the integration of the Bluetooth speaker, alarm clock and ability to charge various devices, including the new Apple Watch, eliminates clutter and simplifies life.
Luzi's patented sleep technology, the Luzi Sleep System, uses a combination of LED light to aid natural production of melatonin and low frequency sound to soothe users to sleep. Throughout the night, the sleep system functions by maintaining the user's ideal sleep state. By morning, Luzi uses new sounds and light to gently wake the user.
"Luzi is the most advanced smart lamp ever made," said Joel Burke, cofounder and CEO of Luzi. "Studies have found a direct correlation between the quality of one's sleep with various health problems. Our expectation is that Luzi will help to remedy these issues and promote better sleep habits."
In addition to the sleep program, Luzi will have all of the characteristics needed to simplify and organize a nightstand, including:

Lamp with adjustable color and soft white light settings with ample light to illuminate a room or for use as a reading light
Premium Bluetooth speakers to play music, audio books, white noise or the patented low-frequency Luzi Sleep sound track
4 integrated USB ports to charge all personal devices
An optional wireless charging base to charge all the latest devices without plugging in, including an Apple Watch
Touchscreen display that doubles as an alarm clock
Intelligent voice commands to control Luzi and any connected devices
Personalized clock face: choose a favorite look, display temperature, weather report, date and more
Integration with the Smart Home: Nest, Abode, Luna, Lockitron, Switchmate, and more to come
Ability to use fitness/sleep bands with Luzi, including Fitbit
The team behind Luzi aims to raise $50,000 via Indiegogo to begin the production process. Preorders will be offered starting at $269, offering early backers the opportunity to be one of the first to own the world's most advanced smart lamp.
For more information about Luzi, please visit: http://luzilamp.com
About Luzi:
Luzi is an innovative smart lamp designed to improve sleep quality and provide a more organized nightstand. The Luzi Sleep system uses patented sleep technology that combines sound and light to encourage the human brain to shift into the metabolic maintenance modes associated with healthy sleep. The Luzi lamp also features a clock/alarm, charging base, and other features to unclutter the user's life.
For more information about Luzi or to contribute to the Indiegogo campaign, please visit: http://igg.me/at/luzi