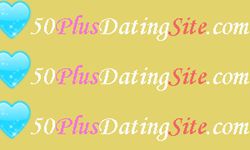 50 plus dating sites
(PRWEB) July 07, 2015
50PlusDatingSite.com has made a comparison between the top five sites meant for singles over the age of 50. The site has compared all the top five 50-plus dating sites to help singles in choosing a better dating website. The comparison has been done by highlighting all the important details.
Speaking to the media, a representative from the company said, "There are so many online dating sites available on the internet now. People often get confused with which website they should opt for to get their perfect date. We understood the problem and decided to compare the top five dating sites for seniors. We have gone through each and every advantage and disadvantage of all the top websites to provide a clear picture. The comparison has been made after much research and we have tried to provide fact based information." He added, "I hope the comparison will help people to choose a better dating site for 50-plus."
Experts are of the view that comparing dating sites is a great way to identify the better dating service that applies to each individual's preference. The research will definitely help people who are new or not much aware of dating sites. The top five websites compared by 50PlusDatingSite.com include Senior Match, Older Online dating, Older Women Dating, Age Match and Our Time. The comparison has been done on the bases such as number of verified members, privacy policies, feedback of users, search options, success stories, additional services, rates for getting registered and more. On 50PlusDatingSite.com individuals can see the evaluations. The official webpage link for all top five over 50 dating sites is provided along with reviews so that users can easily access them directly. Reviews for other dating website including HPV Dating site, Herpes Dating site, Dating with HIV and Rich man dating site is also stated on the website.
About 50PlusDatingSite.com
50PlusDatingSite.com is a new dating website, where individuals who have crossed the age of 50 can find their match by registering. The website reviews other dating sites to help people in making a wise decision while choosing a dating website. It provides complete support to seniors in finding their perfect date.
For more details, please visit http://www.50plusdatingsite.com