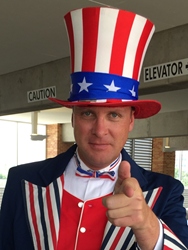 Our motto has always been work hard, play hard. --John Lamar, Managing Partner, The Alexander Group
Houston, Texas (PRWEB) July 03, 2015
The Alexander Group, a 30-year old, global executive search firm, highly-regarded by Fortune 500 companies and professional service industries alike-- typically known for its consummate professionalism-- embarks each year in a whacky marketing campaign aimed to make clients laugh, honor a good cause and break from their day jobs.
"Our motto has always been work hard play hard," says Managing Director John Lamar, who together with partner, Jane Howze has been responsible for C-level hires ranging from blue chip law firms like Latham & Watkins to fast food chains such as Jack-in-the-Box.
While content marketing and online video in particular strike many conservative companies as new-fangled, The Alexander Group has embraced digital campaigns for 15 years, starting with cartoon cards and ratcheting up to full-blown narratives, starring their own employees.
This year Howze, who is credited for the marketing innovation in the firm, chose a July 4th push to escape the advertising clutter of the typical winter holiday market. Donned in a Statue of Liberty costume, with Lamar as Uncle Sam, the two attempt to declare their independence in a 1969 VW bus just to find themselves grilling weenies in their own conference room.
The video, created by Jaded Palate Productions-- and magically shot during the Texas storms with just a green screen in a garage--was sent via email to 40,000 people. The Alexander Group campaigns always include a cause-related hook: This year the program supported The Fisher House Foundation, a veteran's cause, through donations by the firm in their clients' names.
The Alexander Group actively uses social media of all kinds: a sophisticated website with tutorial videos and a weekly blog, TAG Lines: maintaining the firm as one of the first in the executive search industry on the forefront of digital marketing.
The Alexander Group has offices in Houston, London, New York, San Francisco and San Diego.
For more information please call Faith Wheeler at 415-606-1907.