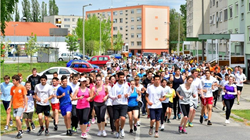 I want to help
Los Angeles, CA (PRWEB) July 02, 2015
A somewhat diffident 11-year old boy approached a Drug-Free Hungary Marathon runner in the city of Dombóvár after a lecture at his school. "I want to help," he said, and Tomó, the volunteer, showed him the contact information at the back of the Truth About Drugs booklet used in the presentation.
"But I want to help you right now!" said the boy, who was joined by his classmates, also insisting they wanted to sign up right away.
No one was more surprised than their teacher who told Tomó this is certainly nothing he's ever experienced at school event before.
The lecture was one of hundreds delivered over the past few months as part of the 14th annual Drug-Free Hungary Marathon, with athletes launching from Budapest in April and running through hundreds of towns and villages, giving lectures to more than 7,000 youth and encouraging them to pledge to be drug-free.
The runners also encourage youngsters and public officials in every town they visit to join them on a drug-free run. All of them are fun, but some are spectacular, such as their route through Baja in southern Hungary.
They planned the run to take them past every school in Baja. The runners were joined by a modest team of 30 youngsters at the first school. A police escort accompanied them throughout the 7-kilometer route and more children joined in at each new school they passed, swelling to an unexpected crowd 500 runners who took up two lanes and filled Szentháromság Square in the center of town where they everyone took the drug-free pledge.
Each of the runners came away from the Marathon with their favorite stories. Dóri's happened as she ran into the town of Abony some 83 km (53 miles) southeast of Budapest. She saw a couple vigorously waiving to flag her down and present her with a half-litter bottle of water and homemade ewe's cheese. The couple had followed the Drug-Free Marathon's Facebook page to track the runners' route through the country. They wanted to be there when the team arrived to "contribute to the outstanding activity."
Hundreds of stories like these inspire the Drug-Free Hungary athletes and all the behind-the-scenes volunteers to work throughout the year to help youth of their learn the truth about drugs and decide to live drug-free.
About The Foundation For A Drug-Free World
The Foundation for a Drug-Free World is a nonprofit public benefit corporation that empowers youth and adults with factual information about drugs so they can make informed decisions and live drug-free.
No one, especially a young person, likes to be lectured about what he or she can or cannot do. Thus, we provide the facts that empower youth to choose not to take drugs in the first place. Additionally our Truth About Drugs campaign consists of activities that they can join which popularize drug-free living. These activities are simple, effective and can involve people of all ages.
Through a worldwide network of volunteers, 50 million drug prevention booklets have been distributed, tens of thousands of drug awareness events have been held in some 180 countries and Truth About Drugs public service announcements have been aired on more than 500 television stations. These materials and activities have helped people around the world learn about the destructive side effects of drugs and thereby make the decision for themselves to not use them.
Through volunteers in more than 100 countries—and thanks primarily to the contributions of members of the Churches of Scientology throughout the world—the Foundation for a Drug-Free World provides its drug prevention and education resources to educators free of charge. All Truth About Drugs materials can be ordered and/or downloaded at the Foundation's website, http://www.drugfreeworld.org .