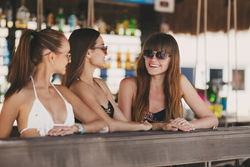 It all started from F+LUS
Texas (PRWEB) July 03, 2015
Imagine paradise: basking in warm sunlight, a cool ocean breeze tickling skin, a sweating glass of iced tea in hand and the sound of waves, therapeutically crashing away all of people's worries with every beat.There are many couples walking along the frothy border of land and sea, enamored in each other's gaze - truly, some moments were just meant to be shared.
In this day and age being alone is no longer a default status but a decision. Dating apps like Tinder and Coffee Meets Bagel are the hottest ways to meet new people, and are responsible for sparking thousands of relationships. Whether it's a wild night in town, wining and dining, or a relaxing evening on the beach, dating apps have revolutionized the way people meet and find love.
Now there's a new dating app that will have everyone buzzing: Flus, the future of dating apps. With 4 unique and exciting matching systems,Flus will help find whomever everyone is looking for. Sporting a clean, fresh design as well as a vibrant chat system, Flus is a must-have app and features the following matching tools:
Fortune: Similar to Google's "feeling lucky" search, Fortune will find the appropriate match for everyone like magic!
Location: Find friends within your vicinity with this function.
Unique: Search for the exact friend you're looking for, whether it's personality or appearance. Search by hair styles or country!
Stylish: The hottest people in your area can be found here!
For more information on Flus and the download link, please visit the website: http://www.f-lus.com and download Flus from the App store and google play.