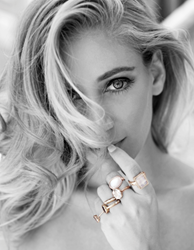 Inbal lands the role as the face of the luxe brand after a string of successes with high profile national and international campaigns
Los Angeles, CA (PRWEB) July 02, 2015
The smoldering black-and-white shots, lensed by Amber Cruse and Jacob Swanson, showcase Amirav's top-notch ability to express depth with a captivating gaze.
Inbal lands the role as the face of the luxe brand after a string of successes with high profile national and international campaigns and commercials including Venus by Gillette, Burger King, HP, and Telanor. Inbal's performance in 'It Rarely Stops', a commercial for the National Domestic Violence Hotline has been met with critical acclaim, having landed on the ballot for the 2011 Primetime Emmy Award and referred to by AdWeek as "scary good". Since then she has guest starred on hit shows such as 'CSI' opposite Laurence Fishburne and 'Love That Girl' opposite Jaleel White and Tatyana Ali.
Since 2001 Amanda Keidan's sophisticated designs have been featured in publications such as Elle, Italian Vogue, In Style, Harpers Bazaar, W Magazine, Lucky, The New York Times, and Jewelry Connoisseur.  Her designs have been worn by celebrities and tastemakers all over the world. Amanda has helped design art in public spaces in Los Angeles as well as the Streamy Awards trophy which includes Neil Patrick Harris and Lisa Kudrow as recipients.