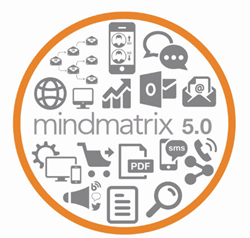 Sales enablement in the truest sense entails answering the three key questions that salespeople struggle with-- "what to say to prospects, when to say and how to say it? Our Playbooks do just that.
Pittsburgh, PA (PRWEB) July 07, 2015
Sales enablement pioneer Mindmatrix announced a major addition to its existing sales enablement platform in the form of sales playbooks. A sales playbook is a systematic organization of all marketing and sales assets that salespeople need when interacting with their prospects throughout the buyer's journey. The Mindmatrix platform now allows companies to create sales playbooks and share them with their sales users in a single click. By mapping the sales and marketing assets to relevant stages of the buyer's journey, Mindmatrix's sales playbooks will help corporate marketing teams provide salespeople with the right assets for each stage of the sales cycle.
Mindmatrix's playbook module is unique in the sense that it allows for companies to create internal and external playbooks. Internal playbooks can be used by companies for internal sales training and on-boarding processes and also for engagement, training and certification of independent reps and channel partners. The playbooks, whether internal or external can be accessed via mobile, thus making it easy for salespeople and channel partners to connect with their prospects with the right message at any time.
Mindmatrix's sales playbook module is flexible and dynamic, allowing users to add any marketing or sales asset to it including PDFs, Presentations, web assets, social media marketing messages including personalized LinkedIn messages, videos or infographics and lead nurturing programs to name a few. The sales playbook module is tightly integrated with the sales enablement platform's personalization and analytics module thus ensuring that every asset that is a part of the playbook is personalized and its performance is tracked.
Harbinder Khera, CEO, Mindmatrix, says, "Sales enablement in the truest sense entails answering the three key questions that salespeople struggle with-- "what to say to prospects, when to say and how to say it?" Mindmatrix's playbook functionality allows companies to build powerful playbooks that do just that. Our playbooks are actionable and support high-end personalization, thus adapting your marketing communication and sales messaging to suit prospect behavior and attributes. Mindmatrix playbooks act like a GPS providing the clear directions that salespeople, channel partners and independent reps need to reach their ultimate destination—closing a lead."