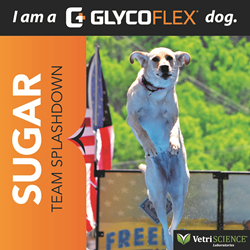 The feedback we are getting this year is amazing! It is such a great experience to be part of this wonderful community of pet lovers and we are so grateful that they trust us to help keep their pets healthy and happy. ~Adrienne B. Asssistant Brand Manager
Essex Junction, Vermont (PRWEB) July 02, 2015
The first Glyco Flex ®/Dock Dogs event in July takes place at the Cleveland Horse Show in Cleveland, OH on July 10 - 12.
On July 17 - 25, Dock Dogs' Glyco Flex® rig lands at the Franklin County Fair in Hilliard, OH.
On July 29 – August 2, Dock Dogs' Glyco Flex® rig lands at the Hartford County Farm in Bel Air, MD.
To register for any of the events, email registration(at)dockdogs(dot)com or call 330-241-4975.
As the pioneer joint supplement for dogs and the premier canine aquatics competition respectively, Glyco Flex® and Dock Dogs have formed a natural partnership. Glyco Flex® supports several, individual Dock Dogs' teams. With a commitment to the pool rig and team health in 2015 events, Glyco Flex® has taken its sponsorship and participation to the next level.
Glyco Flex® is recommended for working dogs, senior dogs, active dogs –and any dog in need of advanced joint support. It is formulated to alleviate joint discomfort, support mobility, and address the wear and tear of everyday activity, helping Dock Dogs of every size stay on the circuit.
For more information about Dock Dogs, visit http://www.dockdogs.com. For more information about Glyco Flex®, visit http://www.glycoflex.com.