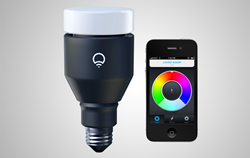 (PRWEB) July 02, 2015
"LIFX" was featured on NewsWatch as part of its monthly Tech Report, which features the latest and coolest technology products available to consumers. Amanda Forstrom, a technology expert and special reporter for NewsWatch, conducted the review and shared with viewers how these light bulbs are the most versatile smart light bulbs on the market.
According to the U.S. Department of Energy, it's very important to use energy-efficient light bulbs the help the environment and help people's wallets. Well, the new LIFX LED smart bulbs are extremely energy efficient, serving people in a number of ways. The bulbs are used like any traditional light bulb; they screw in like other light bulbs and they work on regular light switches. However, these smart bulbs connect to an app on the users' phone through Wi-Fi and control the bulbs' color, brightness, and so much more.
When the user opens the app, they are ready to start using their lights. They can choose their settings and features like color, brightness, themes and schedule of the bulbs. Users can even name each light so they can differentiate between each bulb. Not only that, they're incredibly energy-efficient as well, lasting up to 22 years.
There are two light bulbs that standout. There's the White 800 which gives 1,000 shades from the warmest to the coolest whites at a bright 890 lumens. There's also the Original which offers 16 million choices of vibrant color and whites at 1000 lumens. The White 800 goes for around $39.00, and the Original for $99.
To learn more, visit http://www.lifx.com today.
About NewsWatch
NewsWatch is a weekly 30-minute consumer oriented television show that airs on the Discovery Channel and ION Network. NewsWatch regularly features top technology products and services, mobile applications for iOS, Android, and Windows devices, unique and beautiful travel destinations around the world, health and medical tips, and entertainment interviews on the show. NewsWatch airs on the Discovery Channel at 7:00 – 7:30 AM ET/PT.
NewsWatch is located in the greater Washington, DC area and has been on air for over 25 years. For more information or to watch the most recent episode, visit http://newswatchtv.com/tech-report.html.