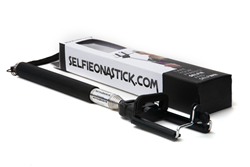 (PRWEB) July 03, 2015
"Selfie on a Stick" was featured on NewsWatch as part of its monthly Tech Report, which features the latest and coolest technology products available to consumers. Amanda Forstrom, a technology expert and special reporter for NewsWatch, conducted the review and shared with viewers how these selfie sticks are great for documenting memories.
Almost every smartphone has an incredibly powerful camera built into it. And when someone is traveling or doing some fun activity, it's pretty much the only thing that they need to capture the moment. But it gets difficult to take a picture when there's an entire group to take a picture of, especially when no one wants to hand their phone to a total stranger. Well, Selfie on a Stick avoids this problem with their selfie sticks.
"Selfie on a Stick is a great shopping destination to get several types of selfie sticks, including the classic model, the Bluetooth model, and our new Selfie on a Stick wired model," said Selfie on a Stick CEO Jacqueline Verdier. "The difference between the Bluetooth and wired model is that the there's no battery, there's no charging, you just plug it into your phone and you're good to go."
Selfie on a Stick is made for everyone that wants to document their travels. Celebrities like Kendall Jenner, Gigi Hadid, and Justin Bieber have already used selfie sticks from Selfie on a Stick to document theirs. The sticks come in several colors: red, pink, blue, glow in the dark, and many more. The price varies for the different models, but they range from $19.99 to $29.99.
To learn more, visit http://www.selfieonastick.com today.
About NewsWatch
NewsWatch is a weekly 30-minute consumer oriented television show that airs on the Discovery Channel and ION Network. NewsWatch regularly features top technology products and services, mobile applications for iOS, Android, and Windows devices, unique and beautiful travel destinations around the world, health and medical tips, and entertainment interviews on the show. NewsWatch airs on the Discovery Channel at 7:00 – 7:30 AM ET/PT.
NewsWatch is located in the greater Washington, DC area and has been on air for over 25 years. For more information or to watch the most recent episode, visit http://newswatchtv.com/tech-report.html.