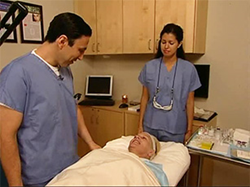 Los Angeles, CA (PRWEB) July 06, 2015
On June 22, 2015, Fox News in a report titled "Female Hair Loss Needs to be Talked About, Shed Stigma, Experts Say," stated that by the time they turn age 35 a quarter of all women in the U.S. will suffer from thinning hair or hair loss. For these 30 million women, though, hair loss is stigmatized and rarely discussed. One woman, a former beauty queen, who was interviewed for the report began losing her hair at age 11 due to an auto-immune condition called Alopecia Areata in which the body attacks its own hair follicles. Eventually she opted for a hair prosthetic that she used when competing in the Miss America Pageant. (see: goo.gl/Bwdw7n)
"I agree that this is an issue that should be more openly discussed," says Dr. Simon Ourian, Medical Director of Epione Beverly Hills. "Though it is medical or genetic condition, female hair loss is unfortunately stigmatized. We try to provide a setting in which our patients feel comfortable to raise the issue so that we can begin the process of restoring their hair."
According to the Fox News report, female hair loss can be caused by menopause, thyroid and other hormonal conditions. Recovery and hair restoration are often blocked by the combination of a lack of information and the stigma attached to female hair loss that stops women from availing themselves of their treatment options. The women interviewed for the article are on a nationwide tour to open up the discussion and educate women on their treatment options.
"As noted in the report, the first thing one should do is see a physician to determine the cause of the hair loss," says Dr. Ourian. "Once a cause has been determined, we can discuss hair restoration options. There are topical solutions and platelet rich plasma or PRP injections that can stem hair loss. Some patients may also be candidates for hair transplantation."
Dr. Ourian has been a pioneer in laser technology and non-invasive aesthetic procedures including UltraShape, VelaShape, Restylane, Juvéderm, Radiesse, Sculptra, and CoolSculpting. These treatments are used for the correction or reversal of a variety of conditions such as acne, acne scars, skin discoloration, wrinkles, unwanted fat, stretch marks, varicose veins, cellulite, and others. More information about hair restoration can be found on Epione's website.