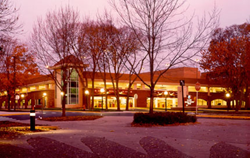 We are thrilled that TekDek was instrumental in the energy savings realized by the University of Minnesota and honored to receive such prestigious recognition within the industry
Kenosha, WIsconsin (PRWEB) July 02, 2015
When Walker Parking Consultants specified Kenall Manufacturing TekDek™ Luminaires for the parking structure retrofit project at the University of Minnesota, they knew it would save the university energy and maintenance costs. What they didn't know is that it would also be an award-winning choice: the total energy savings after installation was an impressive 89 percent, which resulted in the project winning the 2015 Lighting Energy Efficiency in Parking (LEEP) Award for "Greatest Percentage Energy Savings in a Retrofit Parking Structure." The award was presented at the Building Owners and Managers Association (BOMA) International 2015 Every Building Conference and Expo on June 29, 2015, in Los Angeles, California.
"We are thrilled that TekDek was instrumental in the energy savings realized by the University of Minnesota and honored to receive such prestigious recognition within the industry," said Jim Hawkins, Kenall president and CEO. "We strive to design and manufacture the best products for demanding applications and winning awards confirms that we are giving our customers what they need most: energy-efficient, high-quality luminaires with cutting-edge design."
TekDek™ was introduced in 2011: it is a line of powerful, energy-saving LED luminaires for parking structures that exceeds stringent performance requirements for output (1 ft-candle minimum) and uniformity (10:1 on 30 ft spacings), and was the first in the industry to include glare control to help ensure driver safety and comfort.
The LEEP Campaign is a recognition and guidance program designed to encourage facility owners and managers to take advantage of savings opportunities from high efficient lighting solutions in their parking facilities. This effort is a collaboration of the Building Owners and Managers Association (BOMA) International, the Green Parking Council, the International Facility Management Association (IFMA), and the International Parking Institute (IPI). The U.S. Department of Energy Better Buildings Alliance provides technical support to the campaign and its participants. As of December 2014, participants are collectively saving over 120 million kilowatt-hours and over $10 million annually, based on 430 million square feet of high efficiency parking lighting.
For additional information on TekDek with TekLink controls and other Kenall products, visit us at http://www.kenall.com, or call us at (800) 4-KENALL.
About Kenall Manufacturing
Kenall Manufacturing was founded in Chicago, Illinois in 1963 and has built a reputation for durable lighting solutions of superior quality and exceptional value. Today, the company focuses on the transportation—including parking, transit and tunnel—high-abuse, correctional, healthcare, sealed enclosure and food processing markets. Kenall luminaires are designed and manufactured in the USA and meet the guidelines established under the Buy American Act and the North American Free Trade Agreement. For additional information, visit http://www.kenall.com.
###