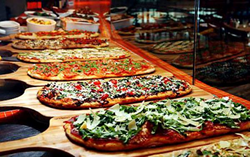 Chef Marco Barrila comments, "The Barrila sauces will bring the passion of Sicily to your table. The sauces will be distinguished for the authenticity of the Flavors. Each ingredient is picked personally from natural local farms or imported from Sicily."
Southampton, New York (PRWEB) July 04, 2015
Master Chef Marco Barrila, Owner and Chef for the famous Insatiable EATS LLC Catering to the stars is opening "Il Posto Mercato At The Rez", a specialty Farm Market and Eatery with Chef Marco's Sicilian "Barrila Twist". Originally from Messina, Sicily, Chef Marco creates foods that embrace his heritage and reflect the authentic regional tastes he wants to share with the world.
"Il Posto Mercato At The Rez" day and night eatery will feature Chef Marco's signature line of Insatiable Pasta Sauces and his famous Canapés. Organic, GMO free, and gluten free choices are available alongside cured fine meats, cheeses, Paninis, and local seafood selections with the "Barrila Twist"
Chef Marco Barrila comments, "The Barrila sauces will bring the passion of Sicily to your table. The sauces will be distinguished for the authenticity of the Flavors. Each ingredient is picked personally from natural local farms or imported from Sicily."
The "Il Posto Mercato At The Rez" is on the Shinnecock Indian Reservation "Outpost" located at 51 Montauk Highway in Southampton, New York. A perfect hot spot for al fresco dining on the outdoor deck or for people looking for healthy and delicious food on the go.
Chef Marco uses local farm fresh products and supports the local community. The Grand Opening of the "Il Posto Mercato At The Rez" to be announced shortly. For more information and a glimpse at the "Il Posto Mercato At The Rez" menu items, visit our Facebook page.
Contact:
Sheila Minkel Barrila
Owner, Insatiable EATS LLC
TEL – (631) 377-3353
FAX – (631) 204-6684
Email- info(at)insatiableeates(dot)com