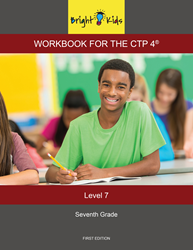 New York, NY (PRWEB) July 03, 2015
Bright Kids Publication Department has published a new Bright Kids workbook for the CTP 4 Level 7 exam. The publishing of this book brings Bright Kids to a total count of five CTP-4 publications over the past 6 years. The workbook contains 348 practice questions that cover all sections of the Level 7 exam and includes information about the CTP-4 and the various question types on the exam. Answer keys and answer sheets are provided in the back of the book. The workbook will soon become available to order on our website for $149.
Bright Kids is America's premiere tutoring and publications company, with a proven success rate in a number of exams, including the CTP-4 exams. We create custom, exam-aligned curriculum to help students excel in the standards expected of them, such as focusing on the depth of the content, rather than a surface-level breadth of knowledge. Additionally, Bright Kids designs expertly-created custom materials.
The Comprehensive Testing Program (CTP) is a standardized exam used by many private and public schools throughout the country to measure the language arts, mathematics achievement, and reasoning abilities of students in first through eleventh grade. The Level 7 exam is administered to students, who are in the seventh grade in the spring and/or the eighth grade in the fall. The CTP 4 Level 7 exam is composed of multiple-choice and open-ended questions in Verbal Reasoning, Vocabulary, Reading Comprehension, Writing Mechanics, Writing Concepts and Skills, Quantitative Reasoning, and Mathematics.