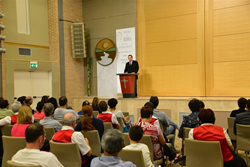 Safeguard and Improve Your Environment
Los Angeles, CA (PRWEB) July 02, 2015
The Church of Scientology of and the The Way to Happiness group of Rome hosted a World Environment Day open house to raise awareness of important issues and what can be done to stem the harm and reverse damage to the environment.
The program was hosted by Fabrizio D'Agostino, director of public affairs of the Church, who emphasized the role of the individual in addressing the crucial environmental issues that affect us all, particularly in keeping with this year's World Environment Day theme: "Seven Billion Dreams. One Planet. Consume with Care."
D'Agostino introduced the humanitarian programs sponsored by the Church of Scientology, and the Church's support of the nonreligious moral code, The Way to Happiness, as a tool anyone can use to raise awareness of individual accountability for environmental issues.
The public service announcement "Safeguard and Improve Your Environment," precept 12 of the book, illustrates how each of us is affected personally by our cumulative irresponsibility for environmental issues. The vice president of the local chapter of The Way to Happiness Foundation presented an overview of the work of her chapter's volunteers.
A beekeeper brought a hive on stage to illustrate the growing plight of bees. More than a third of European hives on average were dying and as many as 90 percent died in 2013 until the European Union put a two-year ban on certain pesticides linked to their death. Bees contribute over €22 billion ($30 billion) annually to European agriculture and pollinate human food valued at over €265 billion ($350 billion) worldwide. Some 70 of the top 100 human food crops, supplying about 90 percent of the world's nutrition, are pollinated by bees, linking the survival of this species intimately to our own.
Athos De Luca, President of the Environment Commission of the Communal Council of Rome, spoke of work done to bring back the beauty of public beaches and upgrade the heavily polluted Tiber River. He urged support for developing natural energy such as harnessing the power of wind, sun, and water, to replace systems that pour pollution into our ecosystems.
The Church of Scientology of Rome holds frequent forums and open house events to bring together concerned members of the community to address important issues that affect the entire city and region.
The Church of Scientology of Rome, an Ideal Scientology Organization, serves as a home for the entire community—a meeting ground of cooperative effort to uplift citizens of all denominations.
The Scientology religion was founded by author and philosopher L. Ron Hubbard. The first Church of Scientology was formed in Los Angeles in 1954 and the religion has expanded to more than 11,000 Churches, Missions and affiliated groups, with millions of members in 167 countries. Learn more at http://www.Scientology.org