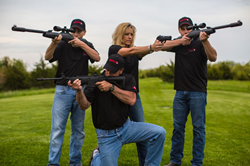 "Raised Hunting" Is the show that keeps you on the edge of your seat and looking for more when it's over
Fort Lauderdale, FL (PRWEB) July 06, 2015
Gamo® Outdoor USA (http://www.gamousa.com), the leading manufacturer of high quality air guns, optics and laser designators has announced a new air gun sponsorship agreement with "Raised Hunting" TV Show (airing on the Outdoor Channel) and with its charismatic hosts, the Holder family, composed of David, Karin, Warren, and Easton.
"Raised Hunting" is about an average American family that has used hunting as a platform to teach ethics and values to their family. The TV Show captures the raw emotion that comes from hunting at close range, all while focusing on bringing audiences ultimate adventures with the highest regard to cinematography.
"Raised Hunting" is a unique TV Show. For the Holder family hunting is life, they breath hunting, and what better way to share your life experiences than with a television series that includes the whole family? Is the show that keeps you on the edge of your seat and looking for more when it's over, giving audience's great entertainment while sharing their adventures as a family, something that Gamo supports." Says Fedor Palacios, Marketing Communications Manager at Gamo® Outdoor USA.
"Partnering with Gamo was in our opinion one of the best decisions we have ever made. A company that takes the very heritage that the Holder's believe in, and build products that makes it easy for that heritage to be passed on. Gamo products look and feel real, because they are real, and must be treated with the same respect; by using them, you would find they don't have the sound blasts or the recoil of a centerfire rifle, which makes them the perfect airgun to introduce a new hunter to the experience of handling and shooting a gun, yet they have the precision and accuracy that make them user friendly for adults as well." Said David Holder
"Raised Hunting" TV Show Season 2 premiered June 29th 2015 on the Outdoor Channel.
Learn more about Raised Hunting at http://www.raisedhunting.com
For press inquiries, please email Fedor Palacios, Marketing Communication Manager (fpalacios(at)gamousa(dot)com)
Gamo Outdoor USA is a leading consumer products company that designs, manufactures and markets a diverse portfolio of outdoor sporting goods products under such world class brands as GAMO®, BSA Optics®, Laser Genetics®, and Aftermath®, and is the exclusive distributor of BSA Guns™ and Joker Knives®. For more information visit:
http://www.gamousa.com
Facebook.com/GamoOutdoorUSA
Twitter.com/GamoOutdoor
YouTube.com/GamoOutdoor
Pinterest.com/Gamooutdoor