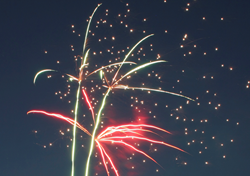 Lincoln, RI (PRWEB) July 02, 2015
Many Fourth of July celebrations will include fireworks this summer, so it's important to keep safety in mind. That's why Amica Insurance is sharing some tips to promote the proper use of fireworks.
According to the U.S. Consumer Product Safety Commission (CPSC), approximately 230 people go to the emergency room daily with fireworks-related injuries in the month surrounding the Fourth of July. Amica is sharing the following tips from the CPSC on fireworks safety:

Make sure fireworks are legal in your area before buying or using them.
Avoid buying fireworks packaged in brown paper, as it's often a sign that they were made for professional displays and not for consumers.
Always have an adult supervise fireworks activities.
Never place part of your body over a fireworks display when lighting a fuse. Move a safe distance away from the fireworks once they've been lit.
Never allow young children to play with or ignite fireworks. Even sparklers are dangerous, as they can heat up to about 2,000 degrees Fahrenheit.
Keep a hose or bucket of water nearby in the event of a fire or other mishap.
About Amica Insurance
Amica Mutual Insurance Co., the nation's oldest mutual insurer of automobiles, was founded in 1907. The company, based in Lincoln, Rhode Island, is a national writer of auto, home, marine and umbrella insurance. Life coverage is available through Amica Life Insurance Company, a wholly owned subsidiary. Amica employs more than 3,400 people in 44 offices across the country. For more information, visit Amica.com.
CONTACT: Vince Burks, Corporate Communications, 50 Amica Way, Lincoln, RI 02865-1155, 800-652-6422, ext. 24563
Twitter: Amica
Facebook: Amica Mutual Insurance Co.