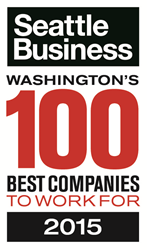 Customer success, professional growth, and a shared vision keep us aligned and motivated.
Bellevue, WA (PRWEB) July 02, 2015
Smartsheet, the spreadsheet-inspired collaborative work management platform used by millions worldwide, today announced it was selected for Seattle Business magazine's highly-coveted 100 Best Companies to Work For award for the second year in a row. Seattle Business magazine honored Smartsheet as the second place winner in the large business category behind Zillow at an awards dinner July 1, 2015 at the Washington State Convention Center. With more than 1,000 attendees at the gala, it was the largest attendance in the history of Best Companies to Work program.
Hailing from cities all across the state of Washington, the winners were chosen based on extensive confidential employee surveys, where they ranked their employers based on a wide variety of factors, including its corporate culture, benefits program, communication practices, employee development, and management team.
Smartsheet, the first place winner in 2014 in the mid-sized business category, is on pace to grow its team this year from 170 to more than 300 employees (current openings here). The work management leader has seen 80 percent year-over-year revenue growth in each of the past five years and reached the 65,000 paying organization milestone in June 2015.
"Each of us at Smartsheet is committed to investing in the team and workplace to ensure there is a sense of purpose and impact in everything we do. Customer success, professional growth, and a shared vision keep us aligned and motivated," said Mark Mader, CEO of Smartsheet. "This award is especially meaningful, as it serves as yet another proof point that we're building a great team and a durable company, while capitalizing on an amazing market opportunity."
As a trusted provider to many of the world's industry-leading organizations including Cisco, Google, Bayer, HomeAway, Groupon, DHL, and the U.S. General Services Administration (GSA), Smartsheet is making significant strides towards becoming the global standard for work management.
Smartsheet pairs the familiar, easy to use spreadsheet interface with capabilities like file sharing, work automation, Gantt chart features and integration with leading cloud productivity tools. Because it is both flexible and highly functional, Smartsheet is used to collaborate, plan and execute a broad spectrum of work, including marketing campaigns, product launches, business operations, manufacturing processes, strategic planning and HR initiatives.
About Smartsheet
Smartsheet, a leading Software as a Service (SaaS) company, offers businesses an intuitive collaboration and work management platform. The ease of use of the familiar spreadsheet-like interface, coupled with file sharing, work automation and Gantt chart features, have made it a popular and highly functional collaboration and project management tool. Customers include construction companies, consulting firms, schools and universities, utility firms, government entities, healthcare organizations, high-tech firms, non-profits, manufacturing and law firms, among others. Additionally, Smartsheet offers mobile apps, pre-built templates, and integrations with leading cloud apps such as Box, Dropbox, Salesforce, Microsoft Office 365 and Google for Work to ensure users are up and running quickly. Visit http://www.smartsheet.com for more details.