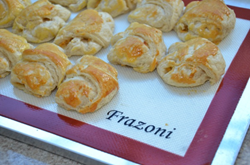 Silicone baking mats are a fantastic way to go green without sacrificing flavor.
Sacramento, California (PRWEB) August 11, 2015
Created to improve baking and make clean-up less complicated, the mat is an engineering composite, with a fiberglass core, covered by a double layer of silicone. Fiberglass distributes heat well, improving baking. Silicone creates a non-stick surface that avoids food sticking to baking pans and makes cleanup easier.
Silicone baking mats likewise assist in saving the earth one cooking project at a time. Because they can be used many times (more than 2000 times if properly made use of, according to Frazoni), the mats help cooks go environment-friendly, simplify kitchen area tasks, as well as restrict the use of fats.
The Frazoni silicone baking mat has a low thermal conductivity which allows it to withstand temperatures in the range from -40°F to 480°F (-40°C to 250°C). How does this translate to streamlining a chef's time in the cooking area? The Frazoni mats are not affected by either the oven or the freezer. This makes the need for parchment paper and other liners a thing of the past.
Marco de Carvalho, Chief Executive Officer of Frazoni said of the silicone baking mat, "Silicone baking mats are a fantastic way to go green without sacrificing flavor. It is truly healthful, practical baking."
Contributing to its benefits, the silicone baking mat is inert, meaning that it will certainly not react with any kind of food. It is FDA approved, naturally atoxic as well as BPA-free. The silicone baking mat is additionally not prone to sustaining germs.
Praised by hundreds of satisfied consumers on Amazon, reviews go across all demographics. Vegans admire it for its capacity to crisp cabbage chips while those on paleo diets praise it for its capability to boost a dinner of baked chicken and roasted veggies.
Probably, the Frazoni baking mat is most loved by bakers, like B. Blakeny who said "I am a happy camper… my Frazoni mats are just perfect and my cookies couldn't look better! I use them every day I bake. They are an excellent addition to my baking tools."
Developed to enhance baking and make cleanup simpler, the Frazoni Silicone Baking Mat is also helping home and professional cooks go green. The product is available at Amazon.com for under $12.00.