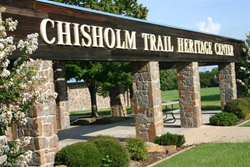 Duncan, OK (PRWEB) July 16, 2015
The annual National Day of the Cowboy will kick off at 10:00 AM on Saturday, July 25 at the Chisholm Trail Heritage Center.
The theme this year will be focused on the Singing Cowboy, with music from Allen Wooten and The Cowboys at Heart Band from Comanche. The band will be performing well known and loved cowboy and country music, including familiar tunes by Elvis Presley, Buck Owens, Hank Williams, and more.
In addition to the country music performed, Glenda Carlile, the author of "The Year of the Turnip", will be on location signing her book and reading. Children are more than welcome, with exciting art projects and activities available throughout the day.
Admission is free for all ages. The event will take place from 10:00 AM - 5:00 PM. For more information, call the Chisholm Trail Heritage Center at 580-255-6692 or visit them online at http://www.onthechisholmtrail.com.