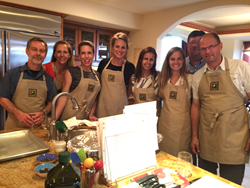 This was the best cooking experience I have ever had.
San Diego, CA (PRWEB) July 08, 2015
One of the leading groups in providing global genomic solutions to the agricultural community, stepped away from the lab to join Chef Jodi, founder of Lajollacooks4u, for an exciting evening of team building in the Lajollacooks4u kitchen.
Their director contacted Chef Jodi in May in search of a unique hands-on experience to follow an important executive meeting. Team members traveled from around the globe to participate in Lajollacooks4u's one-of-a-kind team building experience.
Upon arrival, the company's agrigenomic department was escorted to the terrace garden for Lajollacooks4u's classic gourmet olive oil and salt tasting. The lively group bonded with Chef Jodi over their shared interest in farm-to-table eating, as they gushed over the bountiful fruits and vegetables in Chef Jodi's backyard garden. With this team's extensive knowledge of everything agricultural, it was no surprise they established a special place in the Lajollacooks4u home.
As the team wrapped up the tasting, everyone moved into the kitchen where they divided into two teams to prepare their beautiful five-course meal. Chef Jodi appreciated the warmth and excitement from the group. Their enthusiasm was definitely a testament to the unique and captivating experience that is Lajollacooks4u.
When the meal was finally prepared, everyone sat down in Lajollacooks4u's elegant dining room to enjoy their gourmet menu and carefully paired wine list. The beautifully crafted menu consisted of Focaccia with Roasted Tomato Sauce and Burrata, Avocado and Mango Salad in a Parmesan Cheese Basket, Herb Crusted Beef Tenderloin, Smoked Salmon with a Basil Mustard Sauce, Orzo with Feta, Lemon and Grape Tomatoes, Grilled Zucchini Spears and Portabella Mushrooms, and finally a Lemon Crème Brule Tart with Fresh Raspberries for dessert.
Not a single team member left without a smile. One department member in particular was very pleased with the team building event. "This was the best cooking experience I have ever had," they said. "I thoroughly enjoyed the experience and the team building activities; a big thank you to Chef Jodi for such a fabulous time."
She wasn't the only one raving about the experience. Another agrigenomics team member, and native San Diegan, was also enthusiastic about the evening. "The team building, the menu and the ingredients all added to a wonderful evening; everything was superb," she said. "Chef Jodi is a fabulous host."
Lajollacooks4u is world renowned for its unique team building events. It has welcomed companies from all over the world to partake in their adventurous cooking events - allowing team members to break out of the office and immerse themselves in its unique and upscale hands-on experience.
Lajollacooks4u, founded in 2008, provides an ideal activity for corporate team building, couples and any foodie looking for a unique cooking and culinary experience in a magnificent setting overlooking the Pacific Ocean. Based in La Jolla, a suburb of San Diego, CA, Lajollacooks4u has enjoyed record growth since its inception and has been ranked the number one attraction in La Jolla on the popular travel review site, Trip Advisor. For more information, contact Jodi Abel at jodi(at)lajollacooks4u(dot)com or phone 1-858-752-4980