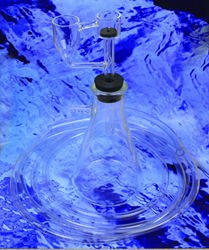 Brooklyn, NY (PRWEB) July 10, 2015
With the growing demand that FireflySci has seen for their spectrophotometer cuvettes, a blazingly fast solution for cleaning cuvettes was necessary. Most laboratories are used to rinsing a cuvette multiple times. Then they have to soak a cuvette for hours in a cleaning solution to get rid of any residue. Finally, the cuvettes need to be dried which can take over an hour. All this adds up to one thing, delays between experiments.
Not all labs have the time to wait for a cuvette to be properly cleaned. Having multiple cuvettes on hand is great, but what if a lab has only one or two cuvettes and needs to use them in rapid succession. This is where the power of the FireflySci cuvette washer comes in.
The way the FFS Cuvette Washer works is by harnessing the power of a lab's vacuum line which is attached to a glass filtering flask. Above the vacuum flask is the cuvette washer assembly. When a cuvette is inverted on top of the rubber gasket, a powerful jet of cleaning solution is shot into every millimeter of the cuvette. This washer is like having a dishwasher for cuvettes, ensuring that any residue is blasted away.
All components of the Cuvette Washer are made with glass, rather than cheap plastic. The glass design gives scientists the ability to use a large array of abrasive cleaning solutions that are harmful to plastic, but perfectly safe for glass.
Setting up the FFS Cuvette Washer takes less than one minute. It is so simple that a child could assemble the parts effortlessly. Once the washer is assembled, researchers can begin cleaning a spectrophotometer cuvette immediately. They will be amazed at how the intense cleaning procedure of rinsing and soaking can be reduced to about 10 seconds. Not only is using the cuvette washer fast but there is almost zero carry-over so scientists don't have to think about cross-contamination.
Many people who work in research labs would pay a small fortune to have such a valuable time-saving-tool in their possession. Luckily, the guys at FireflySci want their clients to have all of the best tools available at a price that will not break the bank. Interested parties can partake in a one-time investment of $148 for the complete spectrophotometer cuvette cleaning kit. Included in the kit is a 500 mL filtering flask, a single or double cuvette washer, and 10 feet of vinyl tubing.
Due to the high demand of these cuvette cleaners, FireflySci is working around the clock to keep stock in their warehouse to fill orders once they come in. People can easily buy this awesome cuvette washer right now on http://www.fireflysci.com.
For more information, visit http://www.fireflysci.com/cuvette-washers/.