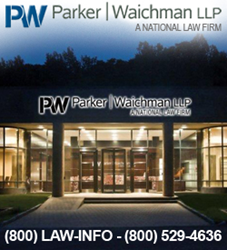 Port Washington, NY (PRWEB) July 02, 2015
Parker Waichman LLP, a national law firm that has spent many years fighting to ensure that the heroes of the 9/11 terrorist attacks are never forgotten comments on Senator Gillibrand's (New York-Democrat) appearance July 1, 2015, on Jon Stewart's "The Daily Show." Senator Gillibrand is the Senate sponsor of the James Zadroga 9/11 Health and Compensation Reauthorization Act" (S.928/HR.1786) and her appearance took place on the fourth anniversary of the Act's passage.
Parker Waichman points out that the Zadroga Act is comprised of two programs: The World Trade Center (WTC) Health Program and the September 11th Victim Compensation Fund (VCF). Both programs require full funding and, not a five-year extension, but a permanent extension. The WTC Health Program provides medical treatment and monitoring, while the September 11th VCF provides compensation.
Senator Gillibrand discussed finding common ground with her peers on "issues of conscience, like the 9/11 health bill where you have to stand up and do the right thing." The senator noted that one of the police officers in attendance with her that night, had also stated at a recent hearing that, "If we don't pass this, people will die." Since 9/11, said Senator Gillibrand, "1700 people have died and we have nearly 4,000 with horrible cancers." She also noted that, "More cops have died since 9/11 than 9/11 itself."
Parker Waichman comments that renewing the Zadroga Act may save the lives of many 9/11 first responders and survivors. "These responders selflessly answered the call for help; they and their families deserve Zadroga benefits," said Gary Falkowitz, Managing Attorney at Parker Waichman.
Parker Waichman has also long noted that many of the cancers and other illnesses being seen in the responders and survivors of the 9/11 attacks are not always immediately visible or diagnosable. "It is crucial that the Act be extended to ensure that those who were injured are assured of continued benefits and care in future years when other diseases may become evident," noted Matthew McCauley, Senior Litigation Counsel at Parker Waichman.
Senator Gillibrand pointed out, regarding 9/11 responders having to seek help from Congress, "Why would you be asking men and women who answered the call of duty how they're going to pay for their health care. It's outrageous. But they ask these men and women, who many gave their lives, many are still giving their lives, because they answered the call of duty." Stewart agreed, noting that, "This one, honestly is the most galling example of a legislature removed from the purpose of their job and from the patriot-patriotism flag that they wave so heartedly when it serves their needs."
Parker Waichman actively worked toward the 2010 passage of the Zadroga Act, including taking part in grass roots and lobbying efforts and trips to the nation's capital led by Matthew J. McCauley, Senior Litigation Counsel at Parker Waichman, often, along with the firm's clients—other responders and survivors.
Mr. McCauley, Mr. Falkowitz, and Parker Waichman continue to support the Zadroga Act and the efforts to extend the Act's timeline and its scope. In fact, the firm was also involved in the newly released "Take Action" tool that enables injured and ill 9/11 responders and survivors, as well as supporters of the Act, to review their Congresspersons' activities concerning the upcoming expiration of the James Zadroga Act. Parker Waichman assisted with the research on, and creation of, the Tool, which may be accessed at: http://www.renew911health.org/take-action/take-action-contact-your-members-of-congress/.
"These individuals sacrificed their health and well-being on and following the events of 9/11, and now they are suffering because of it," said Mr. McCauley. "We are thrilled to see Senator Gillibrand and Jon Stewart spreading the word, increasing public awareness, and continuing to provide information on the ongoing activities and efforts toward extension of this critical Act."
In closing, Senator Gillibrand urged citizens to "call your Congress members. Call your senator. Please call them. Frankly, the only time anything ever works in Washington is when regular people stand up and demand action, so your voice matters. Please be heard on this issue."
Parker Waichman, which worked, and continues to fight, alongside Ground Zero first responders, survivors, and their advocates, to help ensure passage of the Zadroga Act and its amendments, vows to continue its efforts to safeguard these heroes and ensure that they receive all of the Zadroga Act compensation they deserve. If you or a loved one are eligible for compensation under the Zadroga Act, and would like assistance with your claim, or if you or a loved one have been injured as a result of toxic exposure, please visit Parker Waichman's website or call 1-800-LAW-INFO (1-800-529-4636).