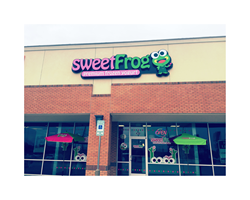 "We are excited to grow the sweetFrog brand in Texas."
Richmond, VA (PRWEB) July 02, 2015
sweetFrog Enterprises, LLC. is pleased to announce the opening of its newest location in Dallas, Texas. The opening is now the 18th sweetFrog store located in the Lone Star State. The premium frozen yogurt chain was listed as #22 on the Inc. 500 list of fastest growing companies in 2014.
The store, which opened June 19 in the Village at Bachman Lake, is located at:
3701 W. Northwest Highway, STE 430
Dallas, TX 75220
"We are excited to grow the sweetFrog brand in Texas," said Joe Zoubi, who also owns locations in Mesquite and Canton. "Being a part of the local community is what we are all about, and we look forward to sharing our family friendly experience and great flavors with new friends."
About sweetFrog Frozen Yogurt:
Sweet Frog (http://www.sweetfrog.com) is the fastest growing premium, all natural, self-serve frozen yogurt restaurant company in the country. Sweet Frog currently has 345 stores including both company-owned, franchise and independently licensed locations either open or under contract in twenty-four in twenty four states in the U.S, Dominican Republic, United Kingdom and Egypt. The company was founded in 2009 and is based in Richmond, Virginia. Sweet Frog prides itself on providing a family-friendly environment where customers can enjoy soft-serve frozen yogurt, gelato and sorbets with the toppings of their choice. The company was founded on Christian principles and seeks to bring happiness and a positive attitude into the lives of the communities it calls home.
Contacts:
Matt Smith, Chief Marketing Officer
matt(dot)smith(at)sweetfrog(dot)net
(804) 835-6796
10800 Midlothian Turnpike, Suite 300
Richmond, VA 23235