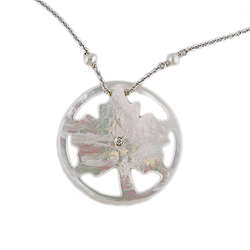 Montreal, Quebec (PRWEB) July 02, 2015
Nishi Pearls was inspired to use the maple leaf symbol, one of the most prominent emblems of Canada, as the focal point of their latest design. With a sales and marketing team operating in Montreal, the brand intended to highlight parts of their Canadian roots by creating a piece that combines its flag's emblem with Nishi Pearls' unique speciality, namely, beautiful Genuine Cultured pearls.
The design process involved intricately carving a maple leaf shape into a 30mm wide white mother of pearl shell coin, with a diamond weighing .015 carats set at its center. The maple leaf pendant is accompanied by a 22-inch sterling silver chain with 3-4mm Genuine Cultured Freshwater pearl stations.
Nishi Pearls has done it again – launching breathtaking must-have pearl jewelry that combines timeless elements with contemporary elegance. Find the maple leaf pendant on the Nishi Pearls online store.
Nishi Pearls™ is a brand that specializes in designing and creating a wide range of Genuine Cultured Pearl jewelry that creates the perfect marriage between classic and contemporary. With offices located in Asia, Canada and the U.S.A, Nishi Pearls has been making its mark at some of the most prominent international jewelry fairs including the Jewelers International Showcase, the Orlando Duty Free Show of the Americas and the Jewelers' Circular Keystone's (JCK) annual trade show in Las Vegas, to name a few.
Nishi Pearls' dedication to quality is reflected in its partnerships with leading professionals, including their latest ingredient branding partnership with Swarovski as well as Air Canada's Inflight program. Their award-winning jewelry is inspired by the consumer of today and the fashion of tomorrow.
Visit them at http://www.nishipearls.com