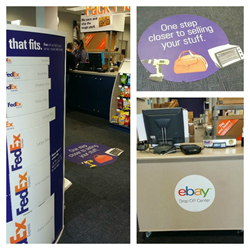 "Even FedEx wants to be a Pawn Star."
Las Vegas, NV (PRWEB) July 17, 2015
A few weeks ago local [FedEx stores launched eBay Drop Off [Source: FedEx.com circa 2015], where a person can bring in their item to sell to eBay by dropping it off at their local FedEx office. Then, FedEx will facilitate the transaction by helping you submit your eBay account information, take any necessary pictures of the product, and ship it to eBay to begin the negotiation process - all for free. When eBay sells the item, the customer will get 70% of the sale price - making this retail and shipping partnership a huge competitor in the pawn space.
This move generates concern from Bravo Pawn Systems since it will directly affect pawn businesses and their customer base, especially if other large retailers were to pair up with a company like UPS with their own similar service. This could mean that pawnbrokers will see their product flow and margins erode. What makes the EBay/FedEx partnership inevitably successful and powerful this time around is the shipping logistics - it's a disruptive business model to the Pawn Industry.
Steve Mack, CEO of Bravo Store Systems, states, "Even FedEx wants to be a Pawn Star. This partnership will take a big piece of the Pawn Pie and be a significant hit to pawnbrokers."
Consumers will like this product because it is easy and fast. For pawnbrokers, now is the time to do something to make sure your business doesn't become irrelevant as partnerships like this arise. Bravo Pawn System's software comes equipped with multiple tools to facilitate a pawn shop's eCommerce business. Besides integrations with eBay and Buya, they recently released "Bravo 2 eCommerce" which allows you to export your item descriptions and photos from Bravo to sites like Craigslist, GunBroker, Amazon, and eBay.