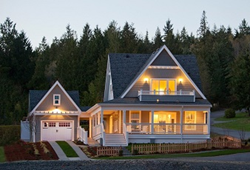 "It was truly an honor to be recognized in such outstanding company. We would be remiss without acknowledging our partners Union Studio, 2+ Design, GCH Planning and Landscape Architecture, and our local trade partners." - Cliff O'Brien
Port Ludlow, Washington (PRWEB) July 04, 2015
Judges for the 2015 Gold Nugget Awards have named Westharbor Homes as a Grand Award winner in its annual competition. The Grand Award honors architectural design and planning excellence and draws entries from throughout the United States and internationally. Westharbor Homes earned its Grand honors for Ludlow Cove Cottages, which was honored for Best Single Family Detached Home – under 2000 sq. ft.
Chosen from the elite pool of Merit Award winners, Grand Awards were announced on June 25 as a feature highlight of PCBC®, the nation's largest regional conference and trade show for the real estate development field.
Located in Port Ludlow, Washington, Ludlow Cove Cottages is a new neighborhood of 42 single-family cottage style homes, designed to suit both full-time and vacation lifestyles. Please call 360-437-8242 or email COBrien(at)westharborhomes(dot)com for photos and additional details on Westharbor Homes Merit Award project.
"Gold Nugget Award winners reflect our industry's best, brightest and most innovative architects, planners and builder/developers," said Judging Chairman and Gold Nugget ceremonies administrator Lisa Parrish. "We applaud them all, and were thrilled to recognize them on June 25 with a celebration of Merit and Grand Award winners."
As the judges' statement read, "This home packs a lot of punch in less than 2,000 square feet. The colors and materials of this beautifully designed cottage home fits perfectly in its woodland surroundings. The detached garage pushed back off the street helps emphasize the spacious outdoor deck spaces that take advantage of water views. Carefully thought out main floor master floor plan flows incredibly well and feels very spacious. The white and gray color palette provides an elegant overall feel and the main living spaces provide excellent views of the water. This home delivers a "custom" feel in a small package."
Now in its 52nd year, GNA is the largest and most prestigious competition of its kind in the nation. It honors design and planning achievements in community and home design, green-built housing, site planning, commercial, retail, mixed-use development and specialty housing categories. Winners this year were chosen from 635 entries from around the world.
Gold Nugget Awards -- Recognizing those who improve our communities through exceptional concepts in design, planning and development.
Westharbor Homes has been building homes for over 20 years on the Olympic and Kitsap Peninsulas and specializes in new neighborhood construction and custom homes.
Westharbor Homes is proud to have a partner in Union Studio Architecture & Community Design for Ludlow Cove Cottages. Union Studio is a nationally practicing, award-winning architecture and design firm located in Providence, R.I. The firm takes a comprehensive approach to the design of neighborhoods – infusing traditional neighborhood planning with beautiful architecture that is both memorable and firmly grounded in the realities of market-driven needs.