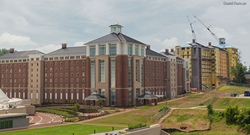 Lynchburg, Va. (PRWEB) July 02, 2015
According to an extensive study, Liberty University is among the best campus housing options in the nation, receiving an "A" grade and coming in at No. 16 on the 2015 Best Dorms report from Niche. Nearly 1,300 colleges and universities were graded based on a comprehensive assessment that considered student satisfaction, crime rates, average cost, and capacity, as well as more than 630,000 opinions from 60,000 students. Out of these institutions, about 900 earned rankings, with Liberty coming in just behind Stanford University for 15th place.
"A high ranking indicates that campus housing offers a safe, healthy living environment that is reasonably priced and that students are very satisfied with housing quality, cleanliness, and amenities," the site states.
Liberty was the highest rated private institution in Virginia for dorms.
Contributing to Liberty's overall grade were A-plus scores for campus quality, health and safety, campus housing, drug safety, technology, and friendliness, as well as A scores for campus food and transportation.
Campus housing at Liberty is only going to improve as the university continues its $500 million campus rebuilding, which includes more residence halls as well as new and upgraded academic, recreation, and athletic facilities. The university is on track to meet its goal of accommodating 16,000 students studying on campus by 2020.
Students have plenty of choices for on-campus living, including apartment style living and quads, as well as a high-rise residence hall that opened in the heart of campus last fall. This fall, a portion of Liberty's second high-rise residence hall will open, offering an additional 425 beds. Even so, Liberty has announced that for the eighth consecutive year it will be closing enrollment for the fall semester because every student housing facility has reached its capacity — 7,877 beds. The fall semester will see the largest-ever number of students living on campus.
While Liberty is going to great lengths to provide a top-notch campus for its students, the university continues to be a leader in environmental responsibility, utilizing energy-saving methods in its construction that serve as a model for other institutions. Read more about this responsible stewardship in the Summer 2015 issue of the Liberty Journal.
About Liberty University
Liberty University, founded in 1971, is the largest private, nonprofit university in the nation, the largest university in Virginia, and the largest Christian university in the world. Located near the Blue Ridge Mountains on more than 7,000 acres in Lynchburg, Va., Liberty offers more than 450 unique programs of study from the associate to the doctoral level. More than 200 programs are offered online. Liberty's mission is to train Champions for Christ with the values, knowledge, and skills essential for impacting tomorrow's world.