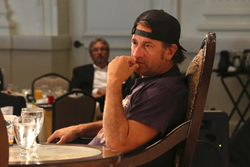 Dutch Bros. Coffee is known for its upbeat baristas and their family inspired atmosphere.
GRANTS PASS, Ore. (PRWEB) July 04, 2015
On Monday, July 6, Dutch Bros. Coffee co-founder Travis Boersma will be featured on the EntreLeadership Podcast. Travis shares his thoughts about Dutch Bros., its culture and employees with host Ken Coleman, in the segment titled: How to Avoid the Hiring Grind.
Travis is an active listener of the EntreLeadership Podcast. He encourages everyone around him—staff, franchisees, managers, and baristas—to subscribe to this podcast and fill their cup with the knowledge, which permeates each segment.
Many Dutch Bros. franchisees have had the opportunity to attend Dave Ramsey's conferences in Phoenix, Seattle and San Diego. It was here, where the Dutch Bros. relationship with Dave Ramsey and his team began to develop. Our franchisees were impressed with the valuable information they learned at these conferences and Dave Ramsey's team took notice of Dutch Bros. and its culture. This newly formed relationship sparked a conversation about Travis appearing on the EntreLeadership Podcast.
On Monday, June 15, Travis sat down with Ken Coleman and the EntreLeadership team to discuss how Dutch Bros. conducts business. The particular areas of interest were how Dutch Bros. not only develops and maintains its unique culture, but also how it addresses hiring and letting go of employees.
This segment dives into Dutch Bros. Travis talks about what it looks like when someone embodies the Dutch Bros. culture as well as how he and the company identify important qualities when it comes to hiring. Travis also discusses how the company recognizes if someone is not a good fit, coaching, and how, if needed, letting someone go is done in the Dutch Bros. world.
Dutch Bros. holds their employees' futures as a top priority in all aspects of development and coaching. The company wants everyone to succeed, whether their goal is with Dutch Bros. or if the company is a steppingstone to their future. Dutch Bros. is dedicated to helping them design a life that utilizes their passion and skills in the best way possible.
"I listen to the EntreLeadership Podcast regularly and often take away valuable nuggets," said Travis Boersma. "It was an honor to be interviewed by a podcast that is so popular with business owners like myself."
###
About Dutch Bros. Coffee
Dutch Bros. Coffee is the country's largest privately held, drive-thru coffee company, with over 240 locations and over 4,500 employees in seven states.
Dutch Bros. serves specialty coffee, smoothies, freezes, teas and a private-label, Dutch Bros. Blue Rebel™ energy drink.
The rich, proprietary coffee blend is handcrafted from start to finish. Every ingredient is measured, every process timed, and every cup perfected.
With a mission of "Making a Difference, One Cup at a Time," Dutch Bros. donates over $1 million annually to nonprofit organizations and local causes selected by local owner-operators.
Dutch Bros. Coffee is headquartered in Grants Pass, Ore., where it was founded in 1992 by Dane and Travis Boersma, brothers of Dutch descent.
To learn more about Dutch Bros., visit http://www.dutchbros.com, like Dutch Bros. Coffee on Facebook or follow @DutchBros on Twitter.
Contact: Jen Wheatley, pr(at)dutchbros(dot)com, 541.226.7787