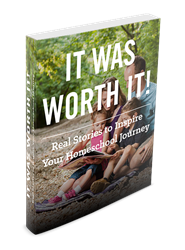 This book conveys a message of hope, while urging homeschool moms and dads to stay the course.
Littleton, Colo. (PRWEB) July 21, 2015
The free download of "It Was Worth It" is a compilation of inspiring and encouraging stories written by everyday moms, as well as some of the biggest names in the homeschooling community.
Compiled by Sonlight staff members, the book conveys a message of hope, while urging young homeschool moms and dads to stay the course, and reassuring them that at the end of their homeschooling journey they'll look back and say, "It Was Worth It!"
Some of the featured authors include:
Sarita Holzmann: A pioneer in homeschooling and founder of Sonlight Curriculum, now celebrating its 25th anniversary. Holzmann's literature-based approach to homeschooling has proven to be a favorite for families across the globe. Holzmann is a featured speaker at homeschool conventions and a regular contributor to homeschool magazines, blogs and radio shows.
Ann Voskamp: A New York Times best-selling author and blogger, Voskamp homeschools six children, blogs and partners with Compassion International as a global advocate for underprivileged children. Her blog, aholyexperience.com is one of the Top 10 Christian blogs on the Web.
Sally Clarkson: Conference speaker, blogger, and author of numerous books for mothers, she and her husband, Clay, started Whole Heart Ministries in 1994 to help parents raise wholehearted children for Christ. Their homeschooling handbook Educating the WholeHearted Child, has been in print for more than 20 years. Since 1998, Sally has ministered to thousands of mothers through her Mom Heart Conferences. She blogs regularly at SallyClarkson.com.
Crystal Paine: Homeschool mom of three, author, and speaker, Paine founded MoneySavingMom® in 2007. The site has since grown to become one of the most popular mom blogs on the web, currently averaging more than 1.5 million readers per month. Her mission is to challenge women to wisely steward their time and resources and live life on purpose. She is the author of many bestselling books, including Say Goodbye to Survival Mode: 9 Simple Strategies to Stress Less, Sleep More and Restore Your Passion for Life.
Laura Lee Ellis: A writer, speaker, former missionary to Africa, and a second-generation homeschooler, Ellis is passionate about world missions and the potential of motherhood in shaping culture. She has contributed to national magazines and radio and works as a writer for Sonlight Curriculum. She, her husband, Nick, and their three children, have lived in six countries and recently returned to the States from University of Oxford.
Lee Binz: Known as "The Homescholar," Binz is a dynamic homeschool speaker and author. Her mission is to encourage and equip parents to homeschool through high school. She is an expert on how to craft a winning homeschool transcript and obtain the big scholarships. Her practical advice and organized presentations have helped thousands of homeschool parents muster up the courage to complete their homeschooling journey.
Portions of each chapter of the book may be used for editorial purposes on a case-by-case basis. Permission to use any portion of the ebook "It Was Worth It" must be granted by Sonlight prior to publication or broadcast. Please contact Sonlight to receive the proper permission form.
Download the book at Sonlight.com/worthit