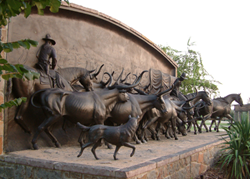 "Just wanted to thank you for such a great day. The ride was well organized, the Simmons Center was amazing, the roads were great, passing cars were courteous, the rest stops were delightful, lunch was delicious." Marybeth, Ardmore, OK
(PRWEB) July 23, 2015
Look no further for a memorable bicycle ride that supports a great cause. This Saturday, July 25th, 2015 is The Dehydrator at The Simmons Center in Duncan, Oklahoma.
Roll through the low hills of southwest Oklahoma as you participate in the Dehydrator. A fun ride with distances ranging from 10-80 miles, you will cover rolling hills, plains and areas of Stephens County, including a stretch across the Waurika Lake Dam. Experience the beauty of the surrounding countryside while challenging yourself to The Dehydrator.
The Dehydrator features recreational, non-competitive rides that include five distances. Options include a 10-mile flat course, as well as 25-, 50-, 62-, and 80 mile courses. The recreational courses are clearly marked; route maps are provided when participants pick up their ride packet on the evening before, and the morning of the event. Stops are provided approximately every 10 miles and there is plenty of fluids, fruits, and delicious homemade cookies.
Ranked as one of the top rides in Oklahoma, and known for its heat, The Dehydrator stages itself at Duncan's premier sports and activity center, The Simmons Center. Participants will have run of the building, which includes showers, a pool, a sauna and a variety of athletic equipment. A free meal is served up for all entrants, extra meals can be purchased for $5.
Not pre-registered? Not a problem as you can register in person the evening before the event (from 6-9 p.m.) at the Simmons Center-located at 800 Chisholm Trail Parkway or register in person the morning of the event (5:30 - 6:45 a.m). Packet pick-up and late registration Friday 6-9 p.m./ and Saturday morning starting at 5:30 a.m.
For more general information contact The Duncan Convention and Visitors Bureau at 1-800-782-7167 or visit http://www.duncancalendar.com.