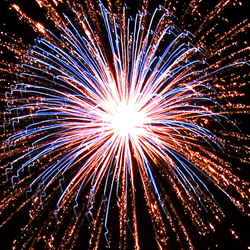 Educating families about the dangers of playing with fireworks such as bottlerockets, firecrackers, sparklers and Roman candles is essential.
San Francisco, California (PRWEB) July 03, 2015
As the Fourth of July holiday approaches, ophthalmologists – surgical sub-specialists who treat eye conditions and injuries – are preparing for an influx of patients injured while playing with fireworks. To help reduce the number of potentially blinding injuries caused by these devices, the American Academy of Ophthalmology is offering the public tips for safe celebration.
"Educating families about the dangers of playing with fireworks such as bottlerockets, firecrackers, sparklers and Roman candles is essential" says Bay Area corneal surgeon Mark Mandel, MD.
According to the latest U.S. Consumer Protection Safety Commission report on fireworks injuries, more than 11,000 injuries occurred in 2013, with 1 in 6 fireworks injuries damaging the eyes. The most severe eye injuries include ruptured eyeballs, chemical and thermal burns and corneal abrasions, all of which can permanently impact a person's vision.
"We now keep an operating room open on call just to treat Fourth of July fireworks eye injuries, and unfortunately anticipate having to treat multiple ruptured globes as well as numerous thermal and chemical eye burns this year," said Russell N. Van Gelder, M.D., Ph.D., president of the American Academy of Ophthalmology and chairman of the ophthalmology department at the University of Washington. "Many if not all of these fireworks eye injuries could be prevented if people more carefully consider the life-changing risks they're taking by playing with fireworks."
"Almost every Fourth of July over the past 32 years I have spent in the operating room treating serious eye injuries which could have been prevented. By following a few simple but critical safety tips, life-changing injuries can be avoided," states Dr. Mandel.
Despite the dangers, an Academy fireworks survey of more than 2,000 adults nationwide conducted by Harris Poll in May 2015 shows that Americans are more vigilant about protecting their eyes when doing home repairs or routine housework than when handling consumer fireworks. Among the specific survey findings:

Many Americans report being injured or know people injured by fireworks: One-third of those polled have been injured or know someone that has been injured by fireworks, yet 1 in 5 still plan to use fireworks this July 4.
Almost three times as many people wear eye protection for housecleaning and home repair than for fireworks: Of those polled, 28 percent say they use eye protection such as goggles when cleaning with chemicals and 26 percent report wearing protective eyewear when doing home repairs such as plumbing or carpentry. Yet, only 10 percent say they wear protective eyewear when using fireworks, as recommended by the Academy.
Five times as many people say it's OK to let kids play with sparklers/fireworks versus light candles: While only 11 percent say children age 5 to 10 should be allowed to light birthday candles, 54 percent say that it is OK for children that age to play with sparklers and other fireworks.
The Academy and Bay Area eye surgeon Mark Mandel, MD, are providing this information to encourage our community to take additional precautions to protect their eyes around fireworks, just as they would when engaged in other common activities that may pose a threat to their vision.
Fireworks Eye Safety Tips
Dr. Mandel recommends attending a professional display rather than using fireworks at home as this is the safest way to avoid injury.
"Although I have seen devastating eye injuries from those attending public displays, by far they are safer than using explosive fireworks at home. Unfortunately, people do not adhere to safe practices when using fireworks at home. I have treated so many cases where children are the victims," says Dr. Mandel.
Those who still choose to use consumer fireworks should never allow young children to handle them, including sparklers. People handling fireworks should always wear protective eyewear, as should those watching. They should also follow the fireworks laws for their location.
If an eye injury from fireworks occurs, seek medical attention immediately and follow these guidelines:

Do not rub, rinse or apply pressure to your eyes.
Do not remove any objects that are stuck in the eye.
Do not apply ointments or take any blood thinning pain medications such as aspirin or ibuprofen.
Members of the news media who would like to speak with Dr. Mandel may contact him at mandel(at)optimaeye(dot)com or (510) 828-2720.
About Mark Mandel, MD
Dr. Mandel is a fellowship-trained sub-specialist in corneal and refractive surgery and one of the most experienced eye surgeons in Northern California. He was born and raised in Los Angeles and is the son of a family practitioner. He graduated with honors from Oxford University, England, receiving bachelor's and master's degrees. He earned his medical degree from UCLA School of Medicine. His ophthalmology residency was performed at Pacific Presbyterian Hospital in San Francisco, followed by a subspecialty fellowship in corneal transplant surgery at the University of Iowa. He is one of the few corneal transplant surgeons in the Bay Area. Dr. Mandel is known in the East Bay Area as the "Doctor's Doctor." He has been selected by hundreds of eye doctors and other physicians to perform surgery on themselves, their families, and their office staff who trust him for his knowledge and surgical skill, and rely on him for his honesty and integrity.
*U.S. Consumer Product Safety Commission Annual Fireworks Report, released 2014